What Bench Grinder Accessories are Available?
Many accessories are on the market to help you tackle a wide range of grinding, linishing and polishing tasks. These include:
Taper spindles
Polishing mops
Polishing bars
Wheel bore reducing sets
Wheel dressers
Spare wheel cutters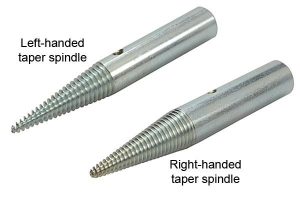 A taper spindle, also known for obvious reasons as a false nose, lets you convert your bench grinder into a polisher by replacing one of the wheels with a mop attachment.
The spindles come in various sizes, and you can get left- or right-handed versions to use on either side of the machine.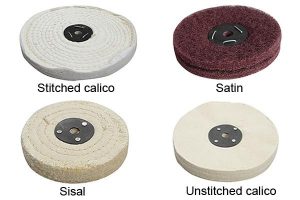 Several different types of polishing mop are available:
Calico (stitched or unstitched)
Sisal
Satin
Calico and sisal mops are used together with bars of polishing compound for different levels of finish – see the section Polishing Bars below for details.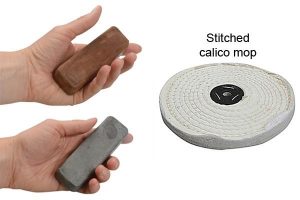 These mops are made from rough cotton, and are the most widely used type. The material has been sewn into spirals, giving it a hardness which makes it ideal for first stage buffing and polishing tasks.
Stitched calico mops should be rubbed with either brown or grey polishing compound, depending on the type of metal being treated.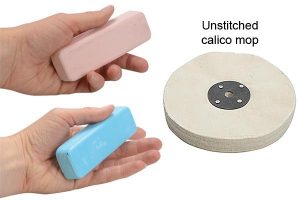 Unstitched, also called loose, calico mops are softer than ones that have been stitched, so can mould themselves to the shape of the workpiece and reach into small crevices. This makes them ideal for use on delicate or intricate items. They should be used with pink or blue polishing compound.
Made from a tough natural fibre, sisal mops are harder than calico versions and give a fast cutting and buffing action. They are particularly good at removing scratches and grinding marks, and should be used with grey polishing compound.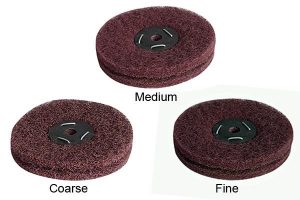 Satin mops are made of nylon fibre mixed with abrasive grains. As the name suggests, they are suitable for sanding and cleaning metal to give a satin-like finish. The mops come in coarse, medium and fine grades, and are suitable for removing scratches, burrs, rust and other blemishes from all types of metal. They do not require polishing compound.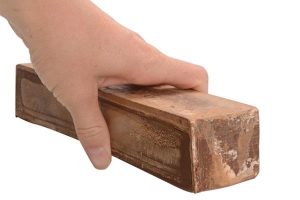 Bars of polishing compound comprise a hard wax substance with added abrasive powders which vary in composition, size and quantity to suit different purposes.
When you hold the polishing bar against the grinding wheel, friction melts the wax which then spreads itself in a thin layer over the wheel to provide an abrasive surface.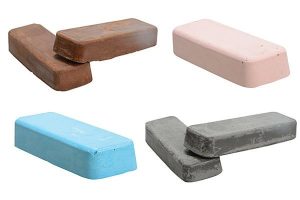 There are many different grades of polishing bar, but the ones most commonly used with mops on bench grinders are:
Grey – for steel and stainless steel at first polishing stage
Brown – for brass, aluminium, copper and plastics at first polishing stage
Blue – for brass, copper and aluminium at final glossing stage
Pink – for chrome plated items needing a high gloss finish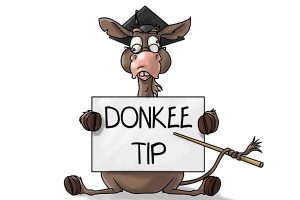 For the most even results and to avoid cross-contamination, use a separate mop for each grade of compound.
Write the type of polishing bar used on each mop with a felt tip pen so you don't mix them up, and store the mops in separate plastic bags when they're not in use.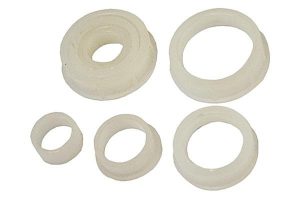 These comprise a selection of synthetic rubber bushes which fit inside the bore of grinding and honing wheels to allow you to use them with different sizes and makes of bench grinder.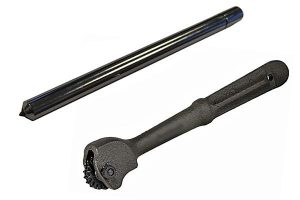 Wheel dressers are essential for keeping your grinding and honing wheels in good condition.
By drawing the dresser across the wheel, you can flatten its surface and smooth away any deposits that have built up. You can get diamond-tipped dressers, or ones with a toothed wheel.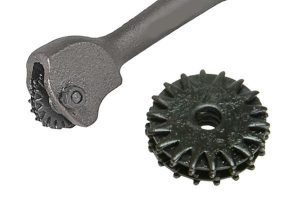 If you have a wheel dresser with a star-shaped cutting wheel, you can simply replace the cutter when it goes blunt without having to go out and buy a whole new tool.