Introduction to DeWalt Impact Drivers
Impact drivers are all about extreme torque and power. They are mainly used for driving large screws and bolts into tough materials, and are perfect for large-scale projects involving the repetitive insertion or removal of screws.
Their power makes them ideal for situations in which speed and efficiency are more important than a precise finish, and they can also be used for drilling holes. Most impact drivers are cordless for maximum convenience and portability.
Why buy an Impact Driver?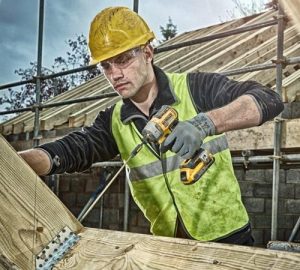 Although they excel at heavy-duty tasks, impact drivers are smaller, lighter and faster at driving screws than most cordless drill drivers, making them ideal for DIY home owners and professionals alike.
They are much less likely to produce kick-back (sudden jolting) because if they encounter any resistance they will simply power through it. This makes them easy to use one-handed, overhead and in restricted spaces.
Impact drivers are great for tasks such as inserting and removing lag bolts and long screws. They are used for many jobs including securing floor and roof joists, fitting kitchen and bathroom cabinets, constructing decking and installing suspended ceilings.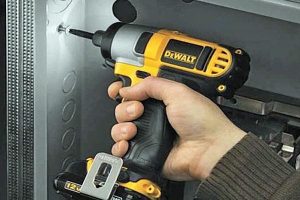 These tools have such a high level of torque that even low voltage models can easily drive large screws and bolts into thick materials such as hardwoods, masonry and soft metals.
You can also use impact drivers to remove stuck screws and bolts, making them popular with joiners, kitchen fitters, mechanics, engineers, electricians and plumbers as well as construction workers. 
How an Impact Driver works?
The high torque is due to the hammer and anvil mechanism inside the tool which delivers a series of quick and powerful blows to the bit while it drives in screws or bolts.
These bursts or 'impacts' are produced around 50 times per second, and deliver a strong rotational force to the screwdriver bit. This increases the torque (turning force) of the screwdriver bit on the screw, allowing it to overcome resistance and drive on through the material.
What to look for in a Cordless Impact Driver?
There are various things to take into account when choosing an impact driver, including ease of use, power, size and weight. If you're intending to keep it at home for DIY jobs, a small subcompact impact driver would make a lightweight, cost-effective and easy-to-use option that would nevertheless still deliver plenty of power.
A professional tradesperson might prefer a more powerful driver with higher torque and selective speeds to provide a wider working range.
Key features to consider when selecting an impact driver include:

Power – torque and speed
Control
Versatility
Size and weight
Bit change system
Ergonomic grip
Build quality
Work lights
Brushless or brushed motor
Torque is the turning force of the tool and is needed to complete tasks such as inserting or removing screws and drilling. More demanding tasks, such as working with larger screws, lag bolts or tougher materials, will require higher levels of torque.
Larger impact drivers can produce more than 200Nm of torque, compared with around 8Nm for the average cordless screwdriver and 20 to 70Nm for most drill drivers. Even subcompact impact drivers can deliver more than 100Nm.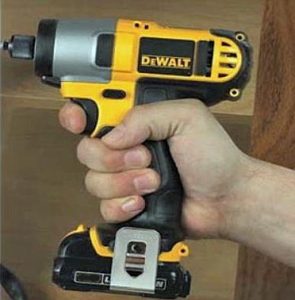 The driver's power is measured in IPM (Impacts Per Minute), referring to how many times the hammer strikes the anvil. DeWalt impact drivers deliver a hefty 3,400 to 3,800 IPM, providing plenty of power for tough jobs.
The tool is operated using the speed control trigger. Squeezing the trigger starts the chuck turning. The further you pull the trigger in, the more torque will be delivered, and the faster the chuck will turn. Conversely, slackening your grip will slow the driver down. Releasing the trigger completely will bring the driver to a halt.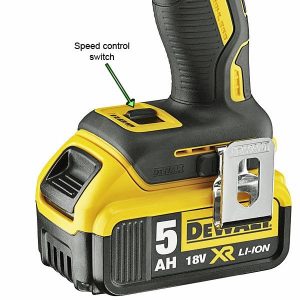 If your impact driver has gears, you'll have greater control over the speed and torque settings. This will allow you to work with a wider range of materials and screws, as you can vary the force applied to the workpiece and so reduce the risk of damage.
Higher-specification DeWalt drivers offer three gears: Precision drive for light screwdriving, Speed 1 to carry out standard impact tasks, and Speed II for heavy-duty applications requiring the maximum amount of torque.
Even if your driver doesn't have gears you can still maintain good control over the tool using the parabolic speed trigger, which is very sensitive to pressure.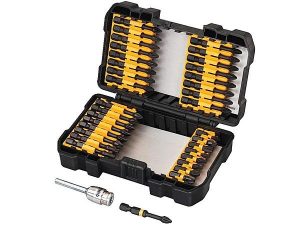 Although cordless impact drivers are primarily designed for inserting and removing screws, you can also use them to drill holes – so you won't have to keep switching between tools while you work.
Impact drivers take ¼ inch hex shank bits. Make sure you use only specially hardened impact bits that can withstand the force of the hammer and anvil action, as normal drill bits will soon get damaged.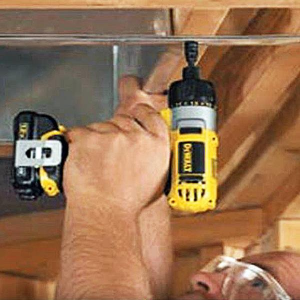 A compact design makes the tool easier to use, and allows you to work in confined spaces and above your head if necessary. At just 15.8cm long and weighing only 1.04kg with battery, the DeWalt DCF815 is extremely small, lightweight and easy to operate.
Even larger, higher specification models are still relatively compact and user-friendly. The DeWalt DCF887, for example, only measures 13.4cm long and weighs around 1.5kg, making it a favourite among professionals.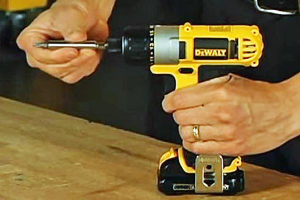 For speed and simplicity, DeWalt impact drivers offer single-handed chuck loading with no tools required.
You don't even have to pull, push or rotate the sleeve – just push the bit-holder into the jaws of the chuck until it clicks into place.
You can also insert 1-inch bit tips directly into the chuck without using a holder, which is very useful when space is tight.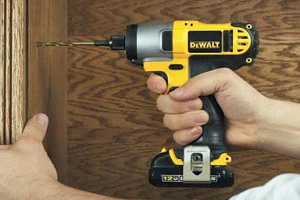 A slim rubberised grip makes the tool comfortable to hold for long periods, and enables you to get into awkward corners where other, bulkier impact drivers might not fit.
Noise and vibration are also kept to a minimum. And small rubber bumpers on the side of the tool prevent it from marring work surfaces when you lay it down.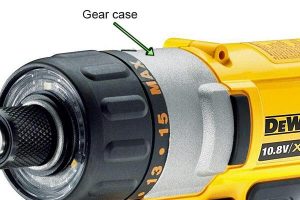 A strong yet lightweight aluminium gear case and all-metal gears provide long tool life and efficient power transmission.
The main housing is made of heavy-duty plastic, while the handle is protected by a rubberised compound. All these high quality features combine to make DeWalt impact drivers tough and long-lasting.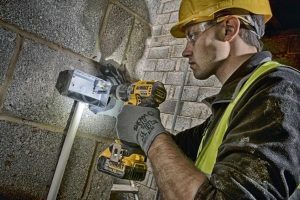 Good visibility will help the quality and accuracy of your work, so sufficient lighting is important.
There are no fewer than three bright LED lights surrounding the chuck on DeWalt's latest impact drivers, giving excellent, shadow-free illumination in even the darkest of corners.
Brushless or Brushed Motor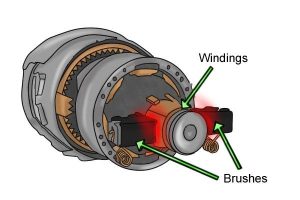 A brushless motor offers great run-time and performance, but what is it? Both brushed and brushless motors operate using an electro-magnetic field with a current flowing through it.
A brushed motor (pictured) uses carbon brushes to deliver current to the motor windings (copper coil) situated directly on the rotating shaft. This creates friction, which causes the brushes to eventually wear out.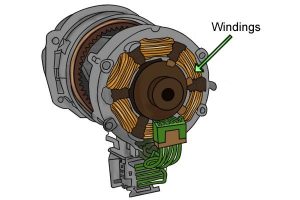 In a brushless motor (pictured)the windings are wrapped around the outer, stationary part of the motor. Magnetic sensors are used instead of direct contact with the rotating shaft, so no brushes are needed.
Friction, heat and noise are greatly reduced, resulting in a cooler, quieter and more efficient motor. The tool can be made lighter and more compact, as no brush housing is required.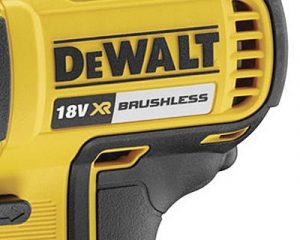 An impact driver with a brushless motor may be more expensive than one with brushes, but is quieter and more efficient because the motor will adjust its power according to the task at hand, saving battery life.
And as there are no brushes to wear out, the motor will last much longer, with maintenance kept to a minimum.
However, if you're only going to use the driver for occasional DIY the brushes might never need replacing anyway, so you may decide that a lower specification, less expensive brushed model would suffice.
Impact Drivers Versus Drill Drivers
Cordless drill drivers are designed for inserting and removing screws, as well as drilling holes. They usually have variable speed settings and can be used on a variety of materials including wood and metal.
Drill drivers are usually less expensive than cordless impact drivers and have three-jawed chucks which can be used with a wide range of both screwdriver and drill bits.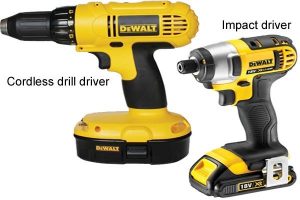 Drill drivers tend to be bulkier than impact drivers, and most cannot produce the same high level of torque that an impact driver can.
If you need to insert or remove large screws quickly and easily, and work in awkward or confined spaces where a large drill driver won't fit, then a cordless impact driver would be your best bet.
Impact Drivers Versus Cordless Screwdrivers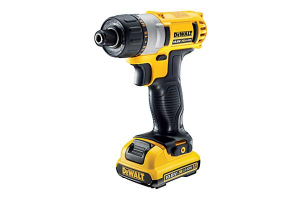 Cordless screwdrivers are designed to insert and remove screws and drill small pilot holes.
They are generally smaller, lighter and less expensive than cordless impact drivers, as well as being quieter to operate.
Most models feature adjustable torque control to allow accurate, consistent screwdriving and drilling into a wide variety of materials.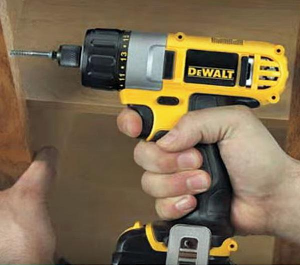 Cordless screwdrivers are not very powerful and are primarily designed for driving smaller screws into soft materials such as pine. They are only able to deliver around 8Nm of torque whereas some cordless impact drivers can produce more than 200Nm.
An impact driver will make short work of inserting all kinds of screws and bolts into both hard and soft materials – although it may not be as precise as a screwdriver.