Introduction to DeWalt Drywall Screwdrivers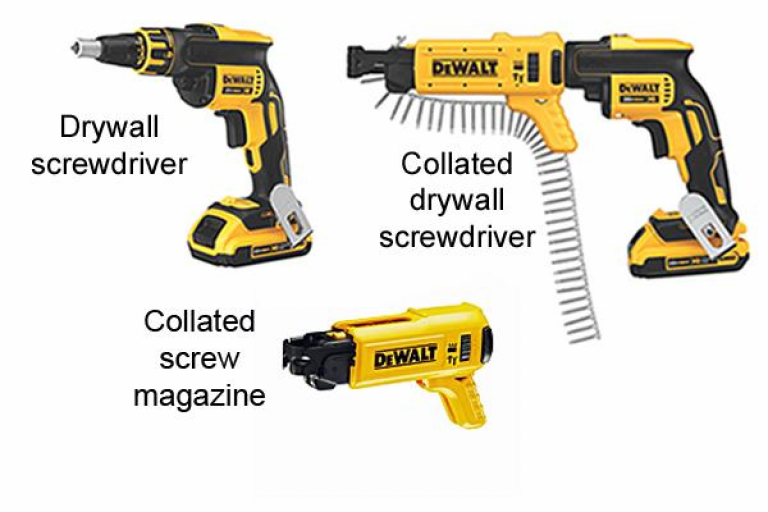 Advantages of a Drywall Screwdriver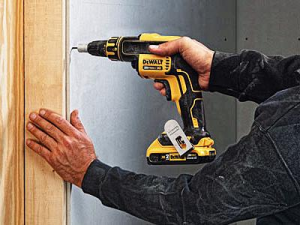 A drywall screwdriver is intended for quick, large-scale fitting of drywall, also known as plasterboard – a layer of plaster sandwiched between two sheets of thick paper.
When fixing the boards to studs (to form walls, ceilings and floors), it's important to drive each screw to the right depth so that it's flush with, or only slightly below, the surface.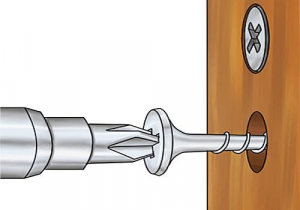 If the screw goes too deep it will rupture the thin paper skin of the plasterboard and won't hold it securely. However, if the screw doesn't go far enough it will stick up from the surface and make a smooth finish difficult to achieve.
A drywall screwdriver solves this problem with a depth control function that allows you to drive each screw to the exactly the same level.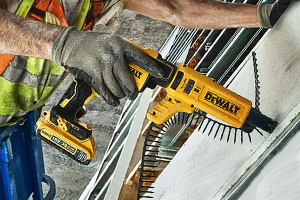 You can buy a drywall screwdriver either with or without a collated screw magazine.
This is an attachment which automatically feeds screws to the bit, turning the tool into a rapid-fire screwgun – ideal when dealing with large areas of plasterboard.
What to look for in a Drywall Screwdriver?
There are various types of drywall screwdriver on the market, some more sophisticated than others. Useful features include:
Brushless motor
Depth control
LED worklight
Lock-on button
Ergonomic grip
Compact size
Belt hook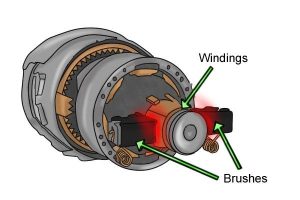 Both brushed and brushless motors operate using an electro-magnetic field with a current flowing through it.
A brushed motor (pictured) uses carbon brushes to deliver current to the motor windings (copper coil) situated directly on the rotating shaft. This creates friction, which causes the brushes to eventually wear out.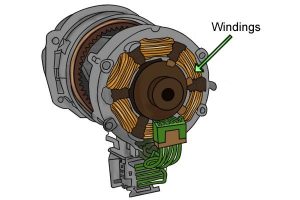 In a brushless motor (pictured)the windings are wrapped around the outer, stationary part of the motor. Magnetic sensors are used instead of direct contact with the rotating shaft, so no brushes are needed.
Friction, heat and noise are greatly reduced, resulting in a cooler and more efficient motor. The tool can be made lighter and more compact, as no brush housing is required.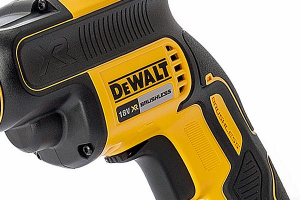 A screwdriver with a brushless motor is more expensive than one with brushes, but also more effective because the motor will adjust its power according to the task, saving battery life. It is also quieter than a brushed machine, delivers torque and speed more evenly, and requires little or no maintenance as there are no brushes to replace.
DeWalt's DFC620 model delivers between 5 and 30Nm of torque – perfect for quickly dealing with long or stubborn screws.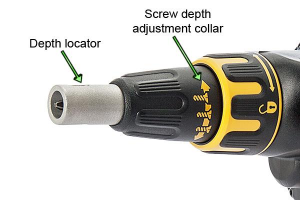 This convenient 'set and forget' feature makes it easy to drive every screw to exactly the same depth, enabling you to achieve a strong, consistent and professional-looking finish. It will remember your depth setting for next time, even when you've removed and replaced the nose cone.
Just turn the depth adjustment collar to the right for a deeper setting, and to the left for a shallower setting.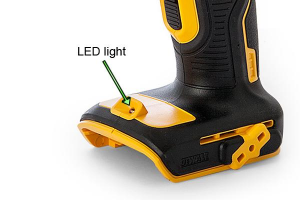 You'll find the bright LED illumination extremely useful when working in dark corners or areas with restricted light.
It's sensibly located at the foot of the screwdriver to avoid casting a shadow over your work, and will stay on for about 20 seconds after the trigger has been released.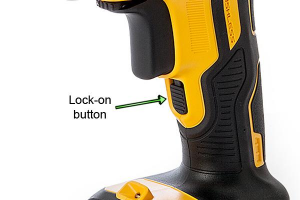 Having a lock-on switch makes the job faster and less tiring, as you don't have to keep squeezing the trigger.
To lock the button in the 'on' position to run continuously, press the trigger down and push up the lock-on switch. The screwdriver will keep running. To turn it off, squeeze the trigger once then release it.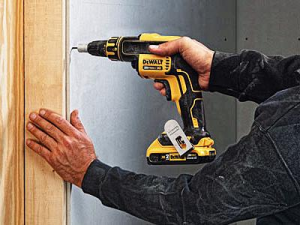 To reduce fatigue, the screwdriver features an ergonomically designed rubberised overmoulded handle.
This allows you to comfortably hold the tool for prolonged periods in either a pistol grip or in-line position, depending on the angle required for the task.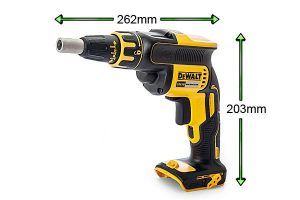 Standing just 203mm (about 8″) high and with a length of only 262mm (just over 10″), the DeWalt drywall screwdriver is ideal for getting into tight corners and narrow spaces.
And as it weighs only around 1.4kg including battery (1.08kg on its own), it won't wear out your arm in a hurry.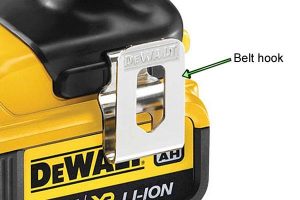 The screwdriver comes with a strong angled belt hook which can be adjusted to suit right or left-handed use.
Made from steel, it will hold the driver securely on your tool belt or pouch. You can remove the hook when it's not needed, or use it to hang the tool on a wall.
Is it worth getting the collated screw magazine?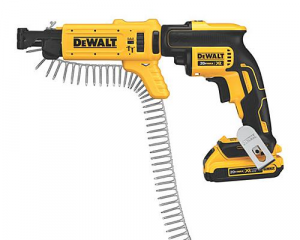 If you frequently have a lot of drywall panels to fit, then a collation mechanism will greatly speed up the job. It does away the need for inserting and positioning each screw individually, so you only need to set the depth adjustment once for a whole batch – up to 700 screws at a time.
The screwdriver is fitted with a dead spindle clutch, which prevents the spindle from turning until you push the tool into the plasterboard. This lets you feed a fresh supply of screws into the magazine without having to switch off the motor, speeding up the job.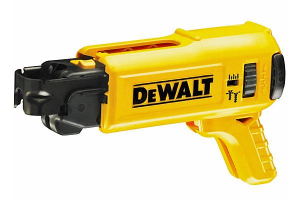 You can either buy the magazine separately to add on to the DeWalt DCF620 or DCF621 drywall screwdrivers, or purchase it as part of a kit.
The magazine has a quick-release mechanism for rapid removal and will accept most makes of collated screw, so you won't be restricted to any one type.
It also opens easily for cleaning – essential when working with plasterboard, which tends to generate a lot of dust.