Introduction to DeWalt Mixer and Rotary Drills
Rotary Mixer Drills are very useful power tools if you are a versatile DIY'er or professional contractor. The latest innovations in power drill technology has lead to incredible rotary and mixer drills and attachments.
Why buy a Mixer and Rotary Drill?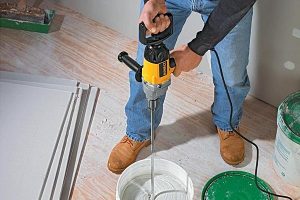 Popular with builders, plasterers and decorators, a mixer and rotary drill is a multi-purpose machine.
You can use it for boring holes in a wide variety of materials including wood and metal, as well as mixing all kinds of liquids such as mortar, plaster and paint – thanks to the mixing paddle that comes with the kit. It's also ideal for thread tapping (creating threaded holes for bolts).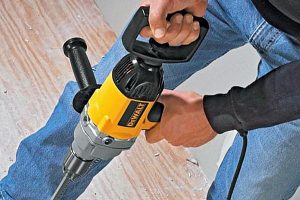 With a vigorous 710 Watt motor, the DeWalt mixer drill is a reliable workhorse with plenty of power for tackling heavy duty site tasks on a professional level.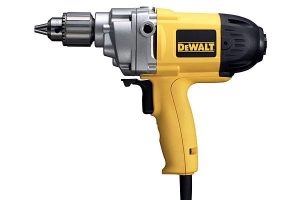 DeWalt mixer drills are solidly built, with a tough casing, robust keyed chuck and high quality, all-metal gears for maximum durability and precision.
What should you look for in a Mixer and Rotary Drill?
Useful features include:
Variable speed trigger
Forward and reverse switch
Spade and side handles
Lock-on button
High torque, low speed
Variable Speed and Forward/Reverse Switch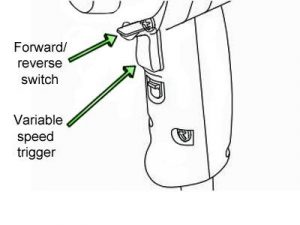 The ability to vary the speed and direction of the drill gives you greater control when drilling – if, for example, the bit becomes clogged with debris you can reverse it out of the hole to clear it. In addition you can adjust the drill speed to suit the type and thickness of material.
And when mixing, being able to slow down or reverse the direction of the mixing paddle will help reduce air bubbles.
The generously sized spade handle is designed to give you maximum grip for drilling tasks that need downward pressure – although you can also use it horizontally.
There is also a side handle that you can attach to the right or left side of the drill head, or even on top, depending on the angle required.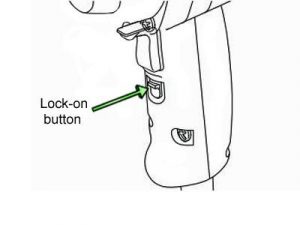 Once your mixer drill is up to full speed you can push the lock-on button for continuous operation – a useful feature that saves you from having to pull the trigger in the whole time.
You can only use the lock-on button when the drill is at full speed and in forward rotation.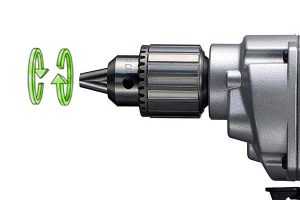 The DeWalt mixer drill combines a high level of torque (up to 50Nm) with a relatively low upper speed of 550rpm (rotations per minute).
This is an ideal combination for heavy duty drilling and mixing tasks, and the slow speed will also give you more precise control.