Introduction to DeWalt Hammer Drills
DeWalt are known for producing high-quality power tools and when it comes to hammer drills! In this Wonkee Donkee guide, we will provide you with a full introduction to DeWalt Hammer Drills!
Why buy a DeWalt Hammer Drill?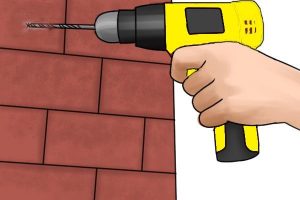 Also known as a combi drill, a hammer drill is a powerful tool that is ideal for heavy-duty work such as boring into masonry.
Even a compact, 18V cordless hammer drill can produce up to 42Nm (Newton metres) of torque, with the larger, 36V version able to deliver up to 80Nm. This contrasts with around 16Nm for a compact cordless drill driver.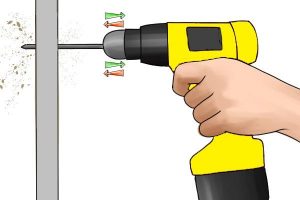 In hammer drill mode the chuck moves rapidly backwards and forwards at the rate of up to 34,000 beats per minute, providing extra force to push the bit deeper into the material – with little effort required on your part.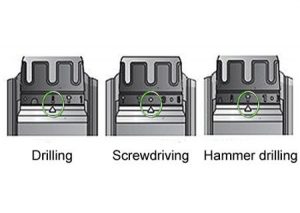 A hammer drill has three settings – drilling, screwdriving and hammer drilling – so it can be used in a wide variety of situations.
In drill only mode you can insert screws and drill holes into soft materials such as plasterboard, wood, plastic and metal, as well as tighten or loosen bolts. On the hammer drill setting you can bore holes into tough materials such as brick, concrete and stone.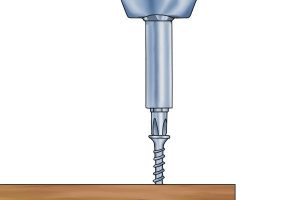 More control gives better results. A DeWalt hammer drill offers up to 22 levels of torque control (depending on model), which enables you to alter the amount of torque (turning force) being delivered when inserting screws. This lets you drive screws to the right depth every time, giving consistent results and avoiding over-tightening.
What should you look for in a Cordless Hammer Drill?
There are a range of different things that you should consider before buying a Cordless Hammer Drill, so at Wonkee Donkee we thought we'd summarise the most important for you!
Adjustable torque control
Metal gears
Brushless motor
Intelligent trigger
LED light
Side handle
Keyless chuck with magnetic bit-holder
Lithium-ion batteries
Belt hook
Adjustable Torque Control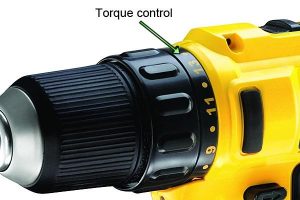 DeWalt cordless hammer drills offer multiple torque level settings – up to 22, depending on the model – so you can fine-tune the turning force to suit the type and depth of material you're working on. For more details see Tips on Torque Control.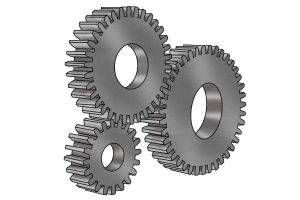 The tough, all-metal gears offer great durability and precision. The gear shifter allows you to change between two or three gears (depending on the model) for more versatility.
You can choose either a low speed, high torque setting (for tough tasks) or a high speed, low torque setting (for softer materials or smaller screws). This breaks up the tool's power into manageable chunks, preventing too much torque and speed from being delivered at one time.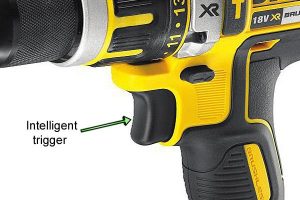 Premium DeWalt hammer drill drivers feature an intelligent trigger which lets you precisely regulate the speed of the machine using finger pressure instead of a switch. This gives you complete control, enabling you to achieve more accurate results.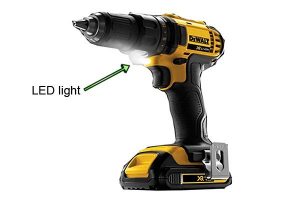 Working in poorly lit spaces can be challenging, so an LED light can come in very handy. Most DeWalt hammer drill drivers now have their light situated on the foot, rather than just above the trigger, so that the head of the tool is less likely to cast a shadow over the workpiece.
The light will stay on for 20 seconds after the trigger has been released – a useful feature that improves visibility and lets you use it as a torch.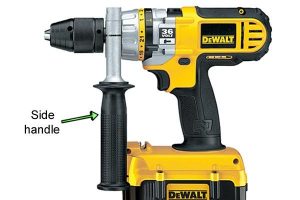 Some DeWalt hammer drills include a multi-position side handle to help balance the weight of the tool and give increased control when tackling tough tasks.
Keyless Chuck with Magnetic Bit-Holder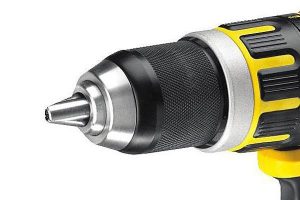 The keyless chuck with automatic spindle lock makes it quick and easy to change drill and screwdriver bits, with no extra tools needed. And the magnetic bit-holder will help prevent bits slipping out of the chuck and getting lost while you're trying to insert or remove them.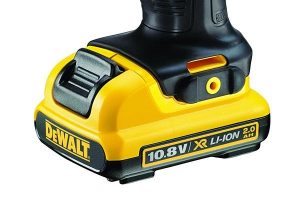 DeWalt drill drivers are available either with or without a battery pack, which consists of two rechargeable lithium-ion batteries – chosen due to their long charge life, compact size and low weight.
Having two batteries means there will always be one with a full charge ready to use, so you'll never have to wait.
Which size battery should you choose?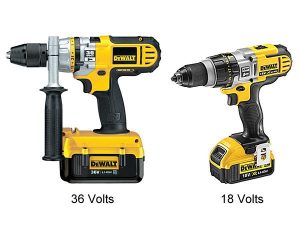 DeWalt produce both 18V and 36V cordless hammer drills. A 36V tool will produce more power and run for a longer period before it needs recharging, making this type particularly popular with professionals. However, it is also larger, heavier and more expensive than an 18V model.
An 18V hammer drill strikes a good balance between power and ease of use, being relatively light, compact and quick to charge.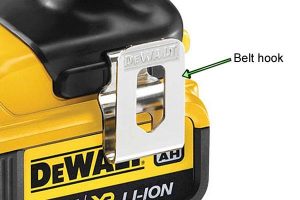 A strong steel belt hook on the foot of the hammer drill will keep it securely by your side while you move around. You can remove the hook if it's not needed.
Brushed or Brushless motor?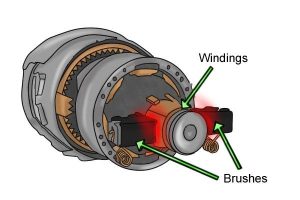 Both brushed and brushless motors operate using an electro-magnetic field with a current flowing through it.
A brushed motor uses carbon brushes to deliver current to the motor windings (copper coil) situated directly on the rotating shaft. This creates friction, which causes the brushes to eventually wear out.
A machine with a brushed motor costs significantly less than a brushless one of similar spec but will still deliver excellent results.
If you're not a professional and are only going to use the hammer drill for jobs around the house you probably won't notice any difference in performance, and may never even reach the point where the brushes need replacing.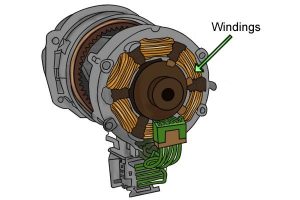 In a brushless machine the windings are wrapped around the outer, stationary part of the motor. Magnetic sensors are used instead of direct contact with the rotating shaft, so no brushes are needed.
Friction and noise are greatly reduced and the machine can be made more compact, as no brush housing is required.
A hammer drill with a brushless motor is more expensive but also more efficient because the motor adjusts its power according to the task, saving battery life.
It is also quieter than a brushed machine, delivers torque and speed more evenly, and requires little or no maintenance as there are no brushes to replace. This type is particularly popular among professionals.