Introduction to DeWalt Angle Drills
Angle drills are the perfect tools for getting into hard to reach places. The way in which they are built, with a straight body as opposed to a handle and drill at 90 degrees angle, makes them an extremely versatile power tool.
What are the different types of angle drill?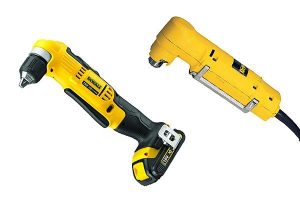 Angle drills, also known as right angle drills, are intended for use in tight spaces where a standard drill won't fit. DeWalt make two types of angle drill: cordless and corded.
Why buy a Cordless Angle Drill?
There are several reasons as to why you should choose a cordless angle drill. In this section, we have put together all of the reasons why we think you should buy a cordless angle drill!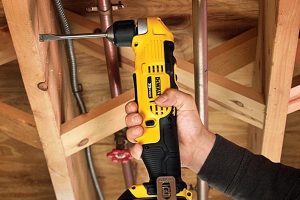 A DeWalt cordless angle drill has a head width of just 102mm (about 4″) and weighs only around 1.8kg including the battery pack, making it ideal for all kinds of fiddly tasks.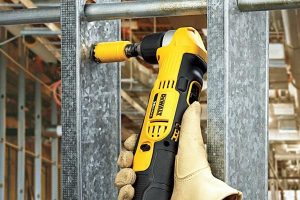 The angle drill's 18V battery provides plenty of power for tackling all kinds of wood and metal, and the high performance fan-cooled motor stops it overheating – so even when you're working on tough materials you won't keep having to stop and wait for the tool to cool down.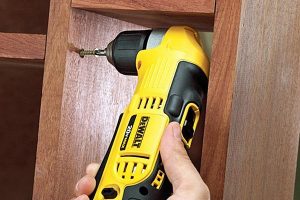 The dual speed range of 0-650 and 0-2000rpm lets you vary the torque level to suit many different kinds of materials, so you can use it as a screwdriver as well as a drill.
Drilling holes or inserting screws in scaffolding, cupboards, shelving, furniture, bathrooms, lofts, kitchen units and vehicle dashboards are just some of the ways this type of drill can be put to use.
What should you look for in a cordless angle drill?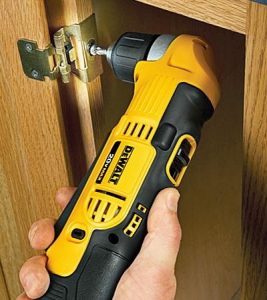 When looking at buying an angle drill sometimes the wording of specifications and the extra functions that they do can be a little confusing. So, we decided to put together a complete guide of everything you should look for when buying a cordless angle drill!
These include:
Dual speed
Metal gearing
Reverse switch
Multi-grip trigger
LED light
Compact keyless chuck

Lithium-ion battery pack
Multi-voltage charger
Belt hook
The gear shifter on the angle drill allows you to change between two speeds for more versatility.
You can choose either a low speed, high torque setting (for tough tasks) or a high speed, low torque setting (for softer materials or smaller screws). This prevents too much torque and speed being delivered at any one time.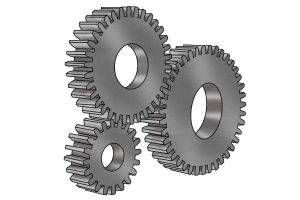 The all-metal gears on DerWalt angle drills are much more efficient and durable than the plastic ones found on many cheaper makes. They offer greater precision, and can also withstand the pressure of working with tough materials.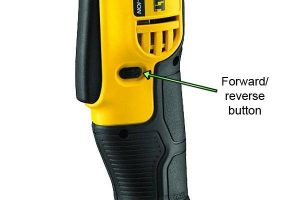 This switch allows you to alternate the direction in which the angle drill rotates, making it more versatile. Forward is used for driving in screws and drilling, while reverse is for removing screws and backing out drill bits. The centre position locks the drill in the off mode.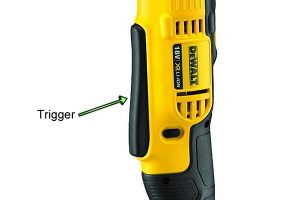 The long paddle switch, or trigger, is comfortable to hold and allows you to operate it from several different positions. This is a big plus point when working in cramped conditions where you may have to keep changing the angle of the drill.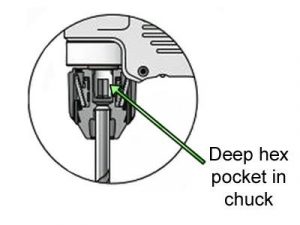 At 10mm diameter, the chuck is nice and compact. A particularly useful feature is its deep hex pocket which lets you fully insert a 50mm bit, so it doesn't stick out too far – ideal for narrow spaces.
As the chuck is keyless you don't need a tool to open and close the jaws, making it quick and easy to change drill bits. The single rotating sleeve and automatic spindle lock let you work it one-handed.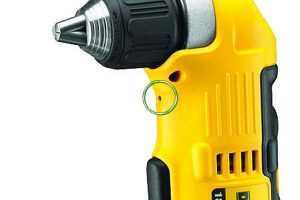 Working in cramped, dark spaces can be challenging, so an LED light is a real boon. Unlike some worklights, the light on a DeWalt angle drill is programmed to stay on for 20 seconds after the trigger has been released, so you can use it as a torch.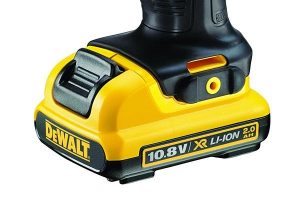 DerWalt angle drills are available either with or without a lithium-ion battery pack – chosen due to its long charge life, compact size and low weight.
The battery pack is easy to insert and remove, thanks to special rails inside the handle of the drill that let you slide it in and out.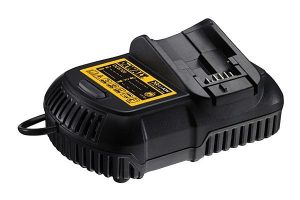 The battery charger will accept several different voltages, so you can use it with 10.8V, 14.4V and 18V XR lithium-Ion slide pack batteries – very handy if you already have other Dewalt cordless tools.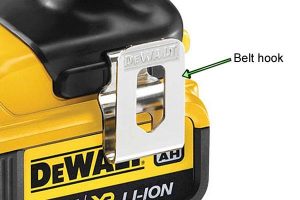 A sturdy steel belt hook on the foot of the angle drill will keep it safely by your side while you move around. You can easily remove the hook if you prefer not to use it.
What about a corded angle drill?
DeWalt's corded angle drill weighs in at only 1.7kg but provides plenty of torque (9.2Nm). While the cordless angle drill has more features, the corded version has its own advantages:
The corded angle drill is straightforward but effective. Once you've inserted the bit, just squeeze the variable speed trigger and you're away. The full body paddle switch is specially designed to support the natural shape of your hand, so you won't get too tired when drilling for long periods.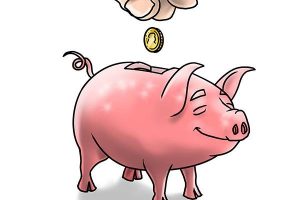 Because it has no batteries the corded angle drill is less expensive to buy and run than the cordless version, offering good value for money.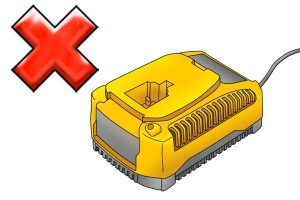 No need to wait for batteries to charge – just plug the drill in and off you go, for as long as you want. And if the power cable's not quite long enough, there's usually the option of plugging in an extension cord.