What are the different types of float?
Floats are used regularly by plasterers, builders and keen DIYers. A float is a tool with a curved handle and a flat board surface made of plastic, wood, rubber or metal.
The float is used by 'floating' or gliding it over freshly applied plaster once it has started to firm up in order to level out the irregularities in the surface.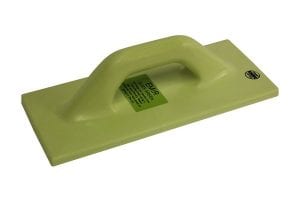 Plastic floats are both lightweight and strong, making them a general purpose choice.
Large heavy duty floats are available for concrete and render, while smaller ones can be used on plaster.
Plastic floats can have either textured or smooth faces. The more heavily textured ones are meant for use with render and concrete, while the smoother ones are best for floating plaster.
The surfaces on plastic floats are non-absorbent, so won't suck plaster or render off the wall.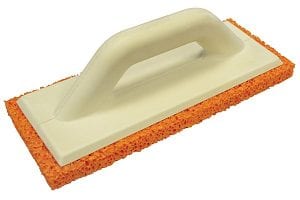 Small and medium sponge floats are used to smooth and shape plaster, as well as to clean up tiles after grouting.
Large sponge floats are also available for use on exterior render. For more information see 'How to float plaster' and 'How to float render'.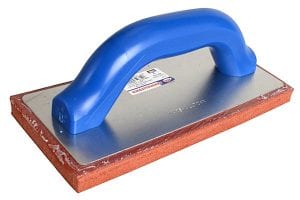 Rubber floats are also known as grout floats, and are mainly meant for grouting wall and floor tiles.
However, larger ones can also be used to smooth render on exterior walls. For more information see 'How to float render' and 'How to grout tiles with a float'.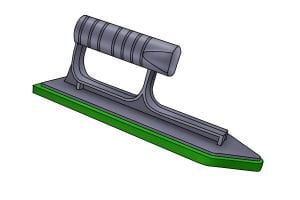 Most rubber floats are rectangular, but you can also get pointed ones for reaching right into the corners and behind pipes – particularly useful when grouting bathrooms and kitchens.
Slimline rubber floats, called margin floats, are handy for smoothing plaster around the edges of walls as well as in the corners.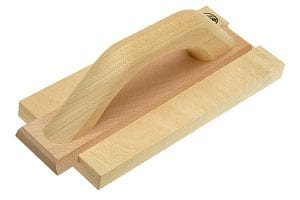 Wooden floats give a sandy texture to plaster and render, and are generally used to prepare the surface for the top coat. Like plastic floats, they come in a range of sizes. They can also be used on concrete if a rough, non-slip finish is required.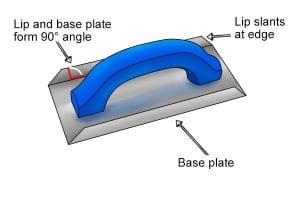 Angle floats are smaller than normal floats. They are usually made of stainless steel and are designed to let you get right into the corners of the room when trimming off pieces of uneven plaster.
The reason angle floats can fit into the corners is because they have lipped edges that form a 90° angle with the base plate, with a slant on both ends of each lip.
For more information see: 'How to float plaster'.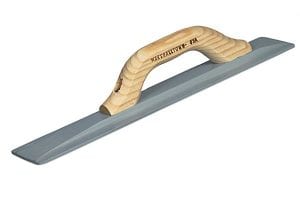 Magnesium floats are used for smoothing out concrete and come with either a square or round tip. They are lightweight and durable, and are available in various sizes.
For more information see 'How to float concrete'.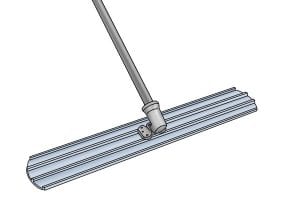 A bull float is similar to a magnesium float but on a bigger scale. Its long detachable handle – often sold separately – allows you to reach across a large area of concrete without having to walk on it.
Most are made out of magnesium, but you can also get aluminium, plastic and wooden ones. Although bull floats are expensive, they are also available to hire.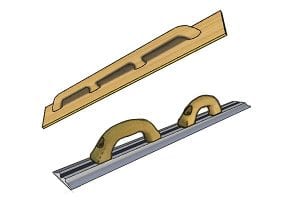 There is some debate among professionals whether a darby counts as a float at all! It is similar to a wooden, metal or plastic float but has an extra long blade – up to 96″ (240cm).
Darbies are used in the early stages of straightening plaster or render. For more information see our guide: Darbies.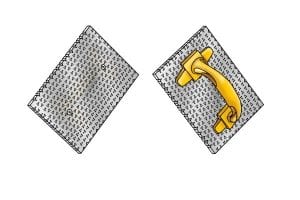 Spiked floats, also known as nail or scratch floats, can be used to give texture to render on outside walls.
For more information see 'How to float render'.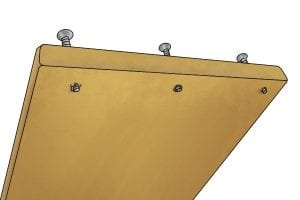 Devil floats are usually made from a wooden float with screws or nails driven into the end. They are used to key the wall, which means to prepare the plaster for the top coat.
For more information see 'How to key a wall with a float'.