DeWalt Sanders, Planers, Routers and Jointers
There are many types of power tools on the market to help carpenters, joiners, cabinet makers, kitchen fitters and DIY home owners with all kinds of woodworking tasks that involve smoothing, shaping and connecting pieces of timber. They include: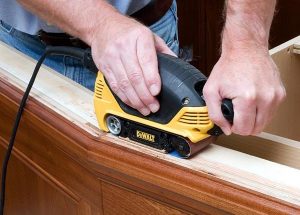 Sanders are hand-held power tools which make the process of smoothing surfaces quicker and easier.
They are mainly used on wood, but some models are also able to tackle other materials such as plastic, plaster and metal. With the correct attachments you can use them to shape, smooth and polish wood, take away excess material from a workpiece, and remove rust from metal surfaces.
There are various types of sander including random orbit, belt, finishing and detail sanders. See Introduction to DeWalt Sanders to find out more.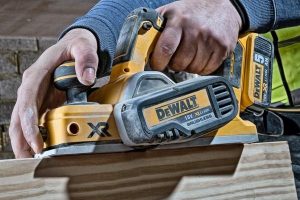 Power planers are handy time-saving tools designed to shave the top layer off a piece of wood to create a flat surface, remove marks, smooth rough corners and make chamfered edges.
Planers are useful for a whole range of woodworking applications, in particular making and levelling doors, handrails, beams, ceiling joists, furniture, cabinets and worktops.
Visit Introduction to DeWalt Planers for further information.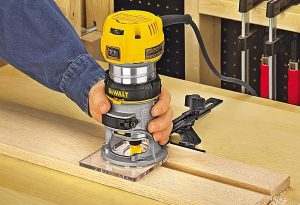 Routers are extremely versatile power tools used by carpenters, joiners, cabinet makers and DIY enthusiasts.
With a router you can cut complex designs in wood, fibre board, plywood, plastics and some metals.
You can also shape edges, hollow out grooves, create decorative mouldings and make joints, among other things.
See the section Introduction to DeWalt Routers for more details.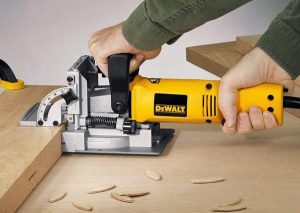 Biscuit jointers are ideal for connecting two pieces of wood with a hidden join. They are widely used for making items such as cabinets, drawers, boxes, cupboards, shelves, worktops, window frames and furniture trim.
Because the biscuit holds the workpiece securely in place, this type of joint can be more easily screwed or nailed. It is also particularly useful for attaching two pieces of wood of varying thicknesses, as you can set the tool to make the cuts at a consistent depth below the surface.
Visit Introduction to DeWalt Biscuit Jointers to find out more.