Introduction to DeWalt SDS-Max Drills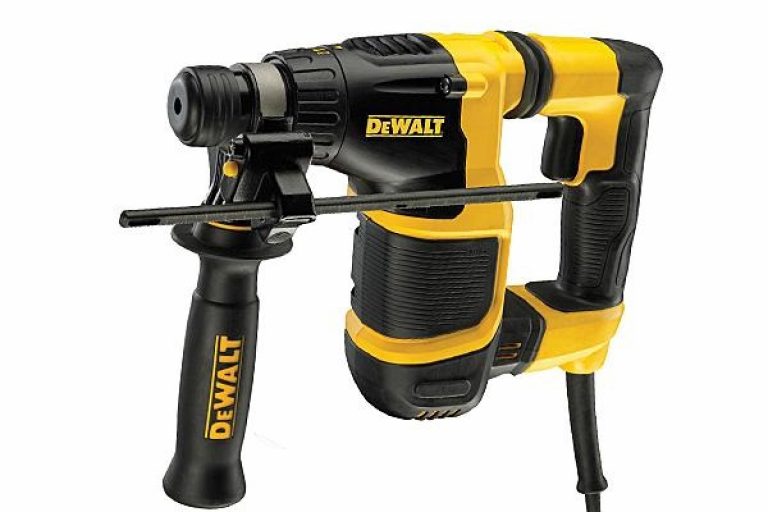 What's the difference between an SDS-Max and SDS-Plus Drill?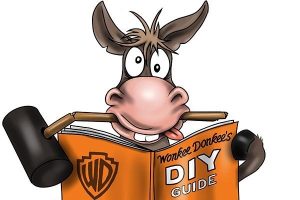 Also known as a combination hammer or combi drill, the SDS-Max is the big brother of the SDS-Plus. And like many older brothers it is larger, heavier and capable of more brute force.
While SDS+ drills are nowadays becoming popular with DIY enthusiasts, the Max version is aimed chiefly at professionals.
An SDS-Max drill doesn't mess about. For maximum power it offers two modes: hammer, or hammer with rotation. There is no plain drill-only option as this wouldn't provide enough force for the heavy-duty tasks this tool is designed for.
Why buy a DeWalt SDS-Max Drill?
With up to 1350 watts of power, SDS-Max drills are designed to tackle the heaviest drilling and chipping tasks and offer plenty of overload protection.
They are perfect for drilling anchor fixings, boring large holes through masonry and even reinforced concrete, and for core drilling (up to 115mm deep, depending on model). In hammer-only mode you can use them for medium-weight demolition jobs as well as chipping concrete and mortar.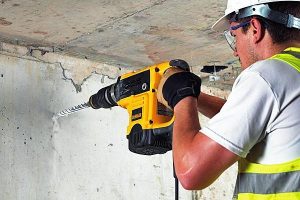 An SDS-Max drill can produce up to 2,450 blows per minute with its ultra-efficient hammering action.
This will enable you to get your work done much faster than with a conventional hammer drill or even an SDS+ machine, saving valuable time and effort.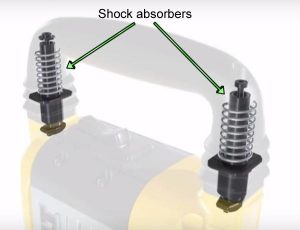 Because only the bit is moved back and forth instead of the whole chuck, the piston-like hammering action of an SDS-Max drill causes much less vibration than a standard drill, making it comfortable to use for long periods.
What's more, most DeWalt SDS-Max drills include Active Vibration Control which further reduces movement. This is achieved with the use of special 'floating' rubber handles containing shock absorbers.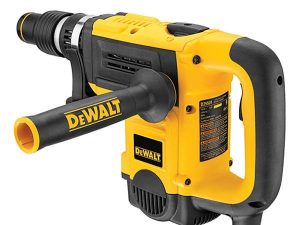 Weighing between 6.1kg and 8.7kg, DeWalt's SDS-Max drills are relatively lightweight compared to their power output, which can reach 11 joules in some models.
Their compact size and slimline shape make them easy to manoeuvre even in tight spaces, while the rubber side and rear handles offer a comfortable, ergonomic grip.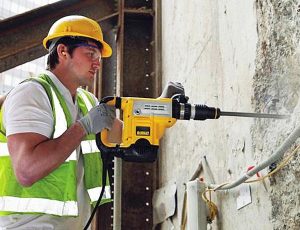 An electronic variable speed dial on most DeWalt SDS-Max drills gives you complete control when working with softer materials or smaller bits. You can use smaller accessories without the risk of damage, and operate the chisel feature more accurately.
Some models have an electronic soft start feature to prevent the drill suddenly jumping up when you turn it on. And a lock-on switch in chipping mode frees up your trigger hand so you can concentrate on the task.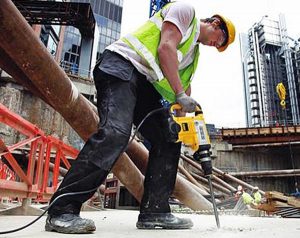 Dust is a power tool's greatest enemy – and if you're working on a building site it's likely to get everywhere. DeWalt's SDS-Max drills are fitted with special seals to protect the hammer mechanism from even the tiniest dust particles and help the machine last longer.
The motor is chain-driven to make it more durable, and the gearbox is filled with oil to help prevent overheating and ensure all the components are kept lubricated.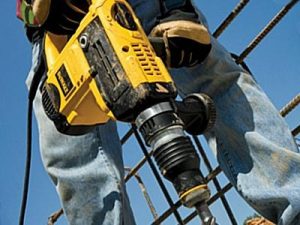 DeWalt has made its hammer mechanism even more effective by reducing the number of parts and improving shock absorption.
The hammer strikes the bit directly without losing energy through excessive vibration, reducing stress on the tool.
This has the effect of increasing the drill's efficiency and impact force, so you can use it on the hardest of concrete.
Can you use SDS+ Bits in an SDS-Max Drill?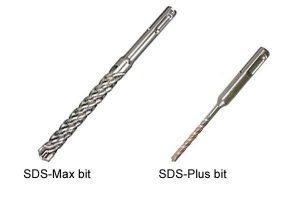 In a word, no. The two types are not compatible because the SDS-Max shank design is very different. It much longer and wider (18mm diameter as opposed to 10mm for the SDS-Plus), and has five grooves compared with four for the SDS-Plus shank.
The SDS-Max shank is inserted much further into the chuck and is then secured by a locking mechanism, whereas the SDS-Plus shank is held by two ball bearings.