Introduction to DeWalt SDS-Max Demolition Hammers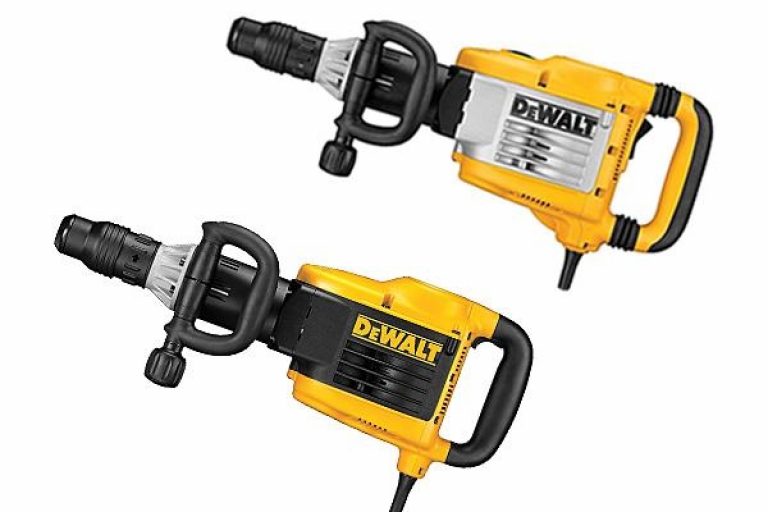 What's the difference between Combi Hammers and Demolition Hammers?
Combi, or combination, hammers are medium-weight machines designed for a mixture of chipping, drilling, channeling and light breaking tasks.
Demolition hammers, also known as breakers, are bigger and heavier. They are used mainly on building sites for breaking up tough materials ranging from concrete to asphalt, although plumbers and electricians also find them useful for chasing (creating channels in walls to conceal pipework and cables).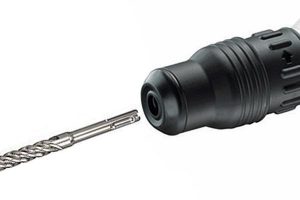 Demolition hammers have SDS-Max tool holders, so can only be used with matching SDS-Max bits.
Instead of being connected to a chuck, the shank of the bit is pushed straight into the tool holder, and is then secured by a locking mechanism which is much stronger than that of a standard drill chuck.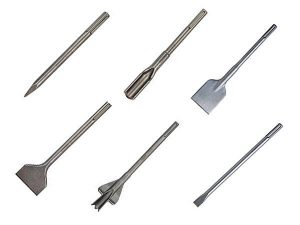 Demolition hammers don't have a drilling mode but work by using a chisel bit to pound the surface until it shatters. This technique is effective on almost any dense structure: walls, pillars, foundations, pavements, even roadways.
There are many chisel bits available to suit a wide range of different applications. For instance, you can choose a small pointed bit for precision work such as chipping away small sections of a wall, a broader one for demolishing a whole wall, a large pointed bit for splitting rocks, or a channeling bit for carving cable runs into concrete.
Advantages of a DeWalt Demolition Hammer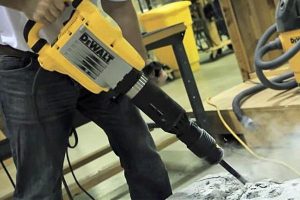 With up to 1550 watts of power, SDS-Max demolition tools are no-nonsense machines designed to tackle the heaviest of jobs.
They feature an extra large hammer mechanism, making them extremely durable and excellent at breaking all kinds of tough materials including asphalt, concrete, bricks and other masonry.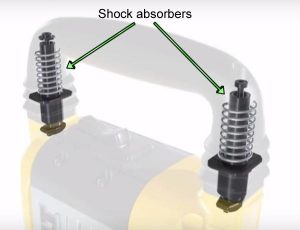 The demolition hammers are well balanced for comfort, and include rubber dampers in the handles and tool holder to help minimise vibration.
Upper range models also feature DeWalt's Active Vibration System, which incorporates 'floating' rubber handles containing shock absorbers. This makes them more comfortable to use for long periods and minimises the risk of wrist or shoulder strain.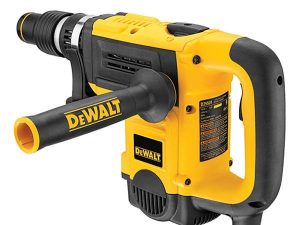 Weighing around 10kg, DeWalt's demolition hammers are relatively lightweight given their power. Their compact size and slimline shape make them easy to manoeuvre even in tight spaces.
You can even operate them one-handed if necessary, thanks to their easy-grip rear handle and large on/off rocker switch.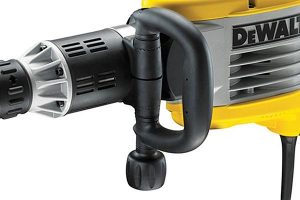 You can twist the large rubber side handle all the way through 360° to find the most comfortable working position.
On top of that, you can also adjust its forwards and backwards angle by up to 150°, providing great versatility.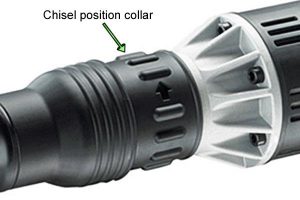 You are able to quickly and accurately change and adjust chisel bits just by rotating the one-step chisel position collar, which offers a choice of 12 different positions.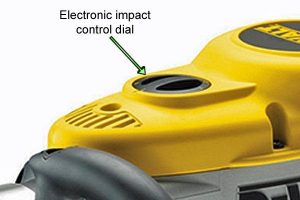 An electronic impact control dial on some upper range models gives you more control, as you can adapt the hammer force to suit hard or soft materials as required.
And because the tool only uses as much energy as is required for the task, the battery is likely to last longer.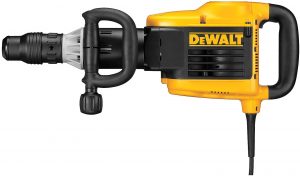 Some demolition hammers have an electronic soft start feature which lets the impact rate build up gradually.
This stops the chisel from bouncing around the surface when you switch on the tool, helping you to work more safely and precisely.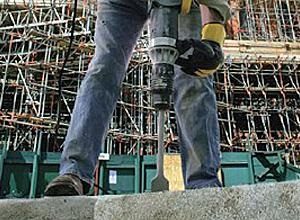 If you're working on a building site, dust is likely to get everywhere. DeWalt's demolition hammers are fitted with spring-loaded seals to protect the motor and hammer mechanism from even the tiniest dust particles, helping the machine last longer.
And some models have magnesium casings, making them particularly light and durable.