Cheap Petrol Lawn Mowers 2022
Cheap Petrol Lawn Mowers
Not everyone has the budget or even the need to go out and buy the biggest and best (which is usually the most expensive) petrol lawnmower. The good news is, there are actually plenty of cheap petrol lawn mowers that offer great quality and reliability. You'll have to make a couple of trade-offs sometimes, but if you don't really need a workhorse of a lawnmower, it doesn't really matter.
To make it easier for you, at Wonkee Donkee we have tested all of the most affordable petrol lawnmowers available on the market and picked out our top 3 for your consideration! We could have selected more than 3, but we believe that when it comes down to value for money they just offer that little bit extra. We have also included a Petrol Lawnmower Buyers Guide to make sure you pick the right cheap lawnmower for your needs.
Murray EQ500 Self Propelled Rotary Petrol Lawn Mower

This Murray EQ500 Self Propelled Petrol Lawn Mower features a reliable, powerful and easy to start Briggs & Stratton 140cc 500E Series petrol engine. This is a great self-propelled mower that is very easy to use and has a great range of cutting heights from 29mm to 92mm.
The deck has a cutting width of 46 cm and is made of durable steel. To add to this the grass collector holds 60 litres and is easy to fit and remove. Not only is it big it is also a really well-designed collecting mechanism that fills up evenly while catching all the cuttings. Saving you time and energy as you don't have to keep emptying the mower before carrying on.
When we tested it and from real customer reviews we have confidence in the Briggs & Stratton Engine's quality and the start-up is always good. This model glides over surfaces and even uneven lawns, slopes and damp grass don't seem to be a problem for this light and agile lawnmower machine.
If we had to make a recommendation we would say that this mower is suitable for medium and large gardens and for the price offers excellent quality. If you have a reasonable amount of outside space to cover and you are looking for the best petrol lawn mower then for the money, this is a great option.
Mountfield Self Propelled Petrol Rotary Lawnmower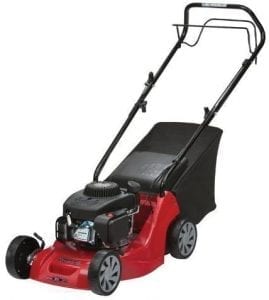 The Mountfield Self Propelled Petrol Rotary Lawnmower makes mowing a medium-sized garden easy. Mainly due to it being extremely powerful and well built. To us, we think it provides good value for money too and is an excellently priced machine that cuts really well.
This mower is also powered by a Briggs & Stratton engine, this time the 300 series OHV 4-stroke engine. What we liked the most when testing was that it is light and easily manoeuvrable, whilst also starting up the first time, every time. With a cutting width of 44 cm and its self-propulsion, it makes lawn mowing easy and is suitable for any medium to large garden. It is cleverly designed to be easily adjusted depending on where you are cutting with a simple to use lever, adjustable to any cutting height from 20 to 70mm. On the back, there is a good-sized 55-litre grass collector which is a real benefit when cutting larger outdoor areas.
Yard Force Push Rotary Petrol Lawnmower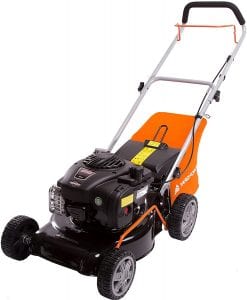 Another affordable lawnmower with a Briggs & Stratton engine is this Yard Force Push Rotary Petrol Lawnmower. This model comes with a decent cutting width of 41 cm and a deck made of high-quality steel which is incredibly durable. Although not self-propelling like the other two in our list, this hand push machine is fairly light to use.
The cutting height is 25 mm to 75 mm and is easily altered with a simple lever, so it's quick and easy to adjust the height depending on the area you're cutting. The collection bag is slightly smaller but it still has a collection capacity of 45 litres which should get you round a medium-sized lawn pretty comfortably.
To start the machine it is simple, there is a prime bulb that you push slowly three times which then delivers the right amount of fuel to the carburettor. Next, pull the start cord and it will start the first time.
Even on long damp grass, this powerful machine gives a great cut while it collects the grass cuttings nicely. Although this is a powerful lawnmower, we were surprised by how quiet it is during operation. This model is also really efficient and the attractive looking nice black gloss finish should keep it looking great for a good while.
This is our top choice for small to medium-sized gardens. This mower is compact, lightweight, very manoeuvrable and easy to use. Although it is the most affordable lawnmower on our list, it still has a good level of performance. Which means at Wonkee Donkee we had no trouble recommending it as the best petrol lawnmower for people on a budget.
Petrol lawn Mower Buying Guide
Choosing a lawn mower obviously depends on what your needs are. So here are a few things to think about when deciding on which petrol lawn mower would best suit your garden. If you want to know what else is out there on the market, then check out our Best Petrol Lawnmower Review.
Manual push or self-propelled
A self-propelled lawn mower uses engine power to move the machine forward without the need for you to push it. Having this power is great, making mowing large, uneven and sloping gardens easier. It takes the hard work out of mowing long grass, damp and tussock grass. These mowers are more expensive, they also need larger engines thus making them much heavier and needing larger storage space.
If your lawn is flat and does not have long uneven areas then the push mower will be adequate. The petrol engine only powers the blades, it takes the action of hand pushing to propel the machine forward. These machines are great for the small to medium-sized garden. The need to push these models means that they tend to be smaller, lighter and easily manoeuvrable around garden features and beds.
Petrol Lawnmower Maintenance
Petrol lawnmowers can last you for many years but will need the occasional repair so it is important to check the brand you chose have spare parts readily available. To keep your lawn mower working in tip-top condition you should ensure it is regularly serviced. Servicing can be carried out by yourself by using online guides or you can get a specialist to do it for you. Many machines come with a 3-year guarantee, so that is certainly something to keep an eye out for when looking at the model you are going to buy.
Features to look out for:
The key to a good lawn mower is its size and quality of the engine. Ensure it is powerful enough for the job you want it to do and choose a reliable brand. Don't forget the self-propelled machine needs more power.
Size of Mower
How much grass gets cut each time depends on the size of the cutting deck. Smaller gardens and those with beds/garden features will suit a mower with a small deck. A larger deck machine is great for larger gardens and will quickly get the job done.
Starting Options
The electric key start on some mowers means you get a more reliable start every time. They come with a rechargeable battery that provides the start mechanism. This is a really great feature and takes the hassle out of cord pulling start motors, you just need to remember to recharge it. Saying that, a standard pull start comes with most machines which come in handy to use if you do forget to charge the battery.
Some machines use an automatic choke to allow reliable starting. Other models use priming and pulling to start the engine. This is worked by pressing the priming bulb three times slowly so that fuel is delivered to the carburettor then pulling the starting cord. All of these mechanisms should work nearly every time, although manual starters do tend to be a little more hit and miss.
Size of clipping bag
It can be a nuisance having to stop to empty the clipping bag. So, if you will be collecting clippings then it's worth remembering to choose a mower that offers a large bag, this will reduce the number of times it will need emptying.