Best Petrol Lawnmower 2022
Best Petrol Lawn Mower
Welcome to our selection of the best petrol lawnmowers. At Wonkee Donkee we work to test all of the latest power tools as well as talk to our regular customers to write the best power tool reviews. In this article, we've handpicked our top 7 petrol lawnmowers.
This is quite unusual for us because we prefer to keep our recommendations down to 2 or 3 products. But in this case, we felt that each model offered something slightly different, so they deserved a mention and are worthy for your consideration.
We've also included a small lawnmowers buyers guide. Buying a lawnmower often depends on what size and landscape that you need to cut so it's not as easy as it sounds. Your budget also plays a large role too, this is one of the main reasons why we have included so many choices in this best petrol lawn mower review.
Hyundai Self Propelled Electric Start Petrol Lawn Mower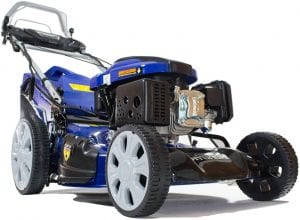 At Wonkee Donkee tools we love the Hyundai self propelled electric start mower. We feel that all in all it has to be the best petrol lawnmower on the market today delivering quality and value for money.
The Hyundai self-propelled electric start mower comes as rear-wheel drive and with 4 speeds to make mowing grass feel effortless. It has a cutting height which is easily adjusted and ranges from 25 mm to 75 mm so you can cut at different lengths pretty effortlessly.
It also has a variety of cutting options including rear discharge, side discharge, collect and drop and mulching. This particular petrol lawnmower offers a 70-litre grass collector and even has a level indicator to let you know when it needs emptying. What more could you want?
Essentially what we are saying is the Hyundai self-propelled electric start mower has everything you need and more. The electric starter shouldn't be overlooked either. You've probably been there, struggling to get a petrol lawnmower started but not with the Hyundai, it starts first time every time. It's the best petrol lawnmower we have ever used and is rightfully the top pick in our best lawnmower review.
Hayter Harrier Self Propelled Electric Start Petrol Lawn Mower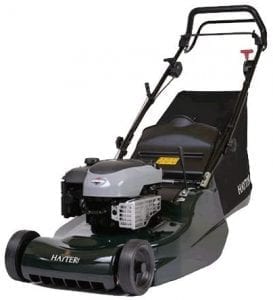 The Hayter Harrier petrol lawnmower is a great piece of machinery. It is one of those lawnmowers that is as equally at home on large stretches of grass as it is on bumpy or sloping gardens. Hayter Harrier is perhaps one of the least well-known brands of petrol lawnmower on the list, so they are a bit of an underdog on this list. But don't overlook them, they have an excellent reputation for quality and performance that come in stylish designs.
The electric start function of the Hayter Harrier petrol lawnmower means it will start first time without any hassle. You also get a battery charger for the starter and an additional pull cord as a backup, in the unlikely event you'll need to start the petrol mower manually (or if you just prefer the traditional startup).
The adjustable cutting height is pretty generous too, allowing you to cut grass from 13 mm to 60 mm. As with all great petrol lawnmowers, it comes with a large holding box so you can get on with the job at hand without having to keep stopping in order to empty the waste.
When cutting long and uneven grass, this beauty delivers a great cut. Although on the heavier side in comparison to other models, this rarely becomes an issue because as it offers self-propulsion and glides across the grass with ease. We have to say that this would be our top pick if you have a larger garden because it gets through the work with a minimum amount of fuss.
Honda HRG 466 Self Propelled Petrol Lawn Mower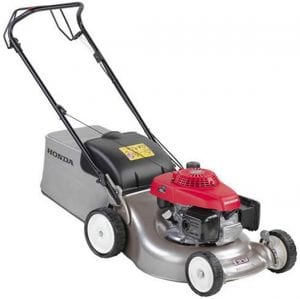 The Honda HRG466 self-propelled petrol lawnmower could easily be our top pick if you put us on the spot. There is very little difference between this awesome piece of machinery and the Hyundai at the start of this best petrol lawn mower review. Honda has designed and built an extremely powerful lawn mower which is suited to taking on awkward landscapes with ease.
You just know you're getting quality from a honda motor. But this is not just a workhorse, it has been designed really intelligently to enhance cuts and prolong the machines life with blade technology that are designed to twist and adapt rather than snap when they hit an obstacle.
The effective self-propelling motion makes this heavy-duty lawn mower easy to manoeuvre and it feels light when is use. There are also 8 different cutting settings and a generously sized grass box that holds 55-litres worth of clippings before you need a trip to the compost heap. As you'd expect with a high-quality Honda motor the mowers very economical when it comes to petrol consumption, making it cheaper to run.
When we tested this Honda lawnmower, it got the nickname the beast. This is because it is a robust, quality and no-nonsense petrol lawn mower that can power through anything. Combined with its lightweight feel and blade protecting technology it's really hard not to love this machine.
Murray EQ500 Self Propelled Rotary Petrol Lawn Mower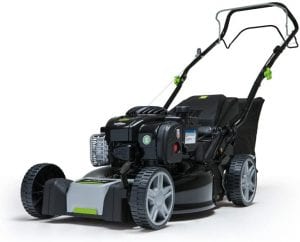 To put it simply, the Murray EQ500 self-propelled petrol lawnmower is an incredible machine. It boasts a Briggs and Stratton 140cc 500e Series petrol engine which, in our opinion, is one of the best petrol engines that is fitted in modern lawnmowers. Not only is it powerful, but it also boasts a steel decking which makes it extremely durable and sturdy.
If you regularly cut medium to large areas then the 46cm cutting width will be a huge advantage. Add to this adjustable height settings ranging from 29 mm to 92 mm, this lawnmower can be customised to get the perfect finish that you want.
The one drawback for us in comparison to similar models is the lack of an electric start option, although Briggs and Stratton's engines do have a great reputation for reliability. What we do really like is the design on the mower and the quality materials used in its build. For such a robust petrol lawnmower it is surprisingly light and the self-propelling technology does most of the work for you.
Overall, the Murray EQ500 self-propelled petrol lawnmower is a great investment if you have medium to large lawn that you need to tend to on a regular basis. In our opinion, we think it provides great value for money and the 2-year consumer use warranty is just the cherry on top.
Mountfield Self Propelled Petrol Rotary Lawnmower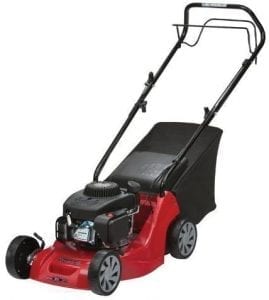 The Mountfield self-propelled petrol rotary lawnmower is another machine that is built around another Briggs and Stratton engine. This time the manufacturer's Mountfield have opted to use one of the 300 series engines, specifically the OHV 4-stroke engine. This provides decent power output and combined with the self-propelling technology a really easy to manoeuvre lawnmower.
This Mountfield is simply a great all-rounder. To begin it offers 44 cm cutting width making it a sensible choice if you have a larger garden. But unlike other mowers with large cutting widths, it is also really agile and lightweight on the move. This means that it is also suitable for smaller intricate gardens that could involve cutting around objects or areas like flower beds.
You can also get a precise finish on your lawn with the adjustable height settings that allow you to choose a range of lengths between 20 mm to 70 mm by moving a simple lever. Whilst cutting the grass is efficiently collected in the 55-litre holding box which gives you enough space to cut a good-sized area without needing to stop to empty your mower.
At Wonkee Donkee, we don't know what it is about this Mountfield lawnmower, but we just really love it. It is really well built and we have no hesitation in recommending it to anyone who just needs a lawnmower for personal use. Whether you have a small lawn or a large one, this fits the bill (for a relatively small bill).
Yard Force Push Rotary Petrol Lawnmower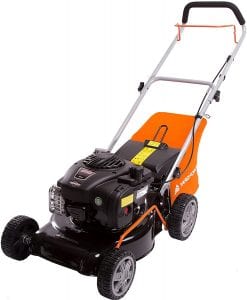 You won't be shocked to find out that the next lawn mower in our best petrol lawnmower review is also equipped with a (yes you guessed it) a Briggs and Stratton engine. The Yard Force Push Rotary Petrol Lawnmower is the first lawn mower on our list that is a manual hand-push model rather than self-propelled. The main reason this machine breaks the trend is that it is an incredible combination of being powerful, lightweight and affordable.
To start the engine you slowly press the prime bulb three times which in turn delivers the right amount of petrol to the carburettor. Next, you pull the starter cord and you are in business. We have tested this mechanism several times ourselves with a near-perfect success rate and if you read any online customer reviews there are minimal complaints.
Once the Yard Force Push Rotary Petrol Lawnmower is on the move, it collects grass keeping clippings neatly in its 45-litre box. What really surprised us was how lightweight the machine was in motion, and although we tend to favour self-propelled models, you couldn't tell much difference. It easily coped on uneven surfaces as well as cutting through damp grass which is one of the main reasons we just had to include it within this review. There is a lot to love about the Yard Force Push Rotary Petrol Lawnmower perhaps what makes it a real serious contender that of a lot of lawnmower for your money. If you are on a budget or just prefer a manual push mower then the Yard Force is the one for you.
Mcculloch Self Propelled Single Speed Petrol Lawnmower
Now if you are looking for the ideal lawnmower for large gardens with uneven lawns or slopes, then you just have seriously consider the McCulloch Self-Propelled Single-Speed Petrol Lawnmower. The 4-wheel drive Briggs and Stratton engine offers a whopping 163cc output, which is more than enough to get you going.
In addition to this, it boasts a 53 cm cutting width which is far more generous than any other petrol lawnmower that has made this list so far – a real benefit when covering large areas. There are also some clever design features that gets the most out of the engine and makes this a superb machine for cutting damp or long grass. There are also extra features such as a shredding option which mulches the cuttings to allow for extra space. Not that you'll need it in the huge 65-litre grass box.
Don't be fooled by this being at the bottom of our best petrol lawnmower review, because this is a serious bit of kit. Its self-propelled so requires very little effort so you can cut large areas of grass effortlessly. When it comes to large outdoor spaces that need cutting this is the king. An investment you won't regret, especially if you are a professional landscaper or groundskeeper.
Petrol Lawnmower Buying Guide
Choosing the right lawnmower for you is a completely personal thing because what lawnmower is best for you depends on what you need it for. For example, there is a range of different things that you need to think about such as size, difficulty and condition of the areas of grass that need cutting as well as storage space and budget. In this Petrol Lawn Mower Buying Guide, we cover all of the most important things you need to know about and consider before buying a new lawnmower.
Manual push vs self-propelled
Self-propelled lawn mowers are a relatively new technology so it is not surprising that not everyone fully understands what they are and how they work. To keep it short and sweet, self-propelled mowers have added technology which (like on a vehicle) causes the machine to advance. This self-propelling motion means that the machine will move forward whilst on with minimal force needed to push it. If you have ever used a manual lawnmower on uneven, slopped or large areas then you will understand the benefit of this function. It simply allows you to glide over the surface you are cutting with minimal physical exertion, so the whole task requires a lot less time and energy.
On the flip side, a manual push lawn mower (especially one of the newer push lawn mowers that has the latest technological advances) will be more than adequate if your lawn is flat and not particularly large. In fact, in many cases where the landscape is even, there is very little difference between a self-propelled or manual push lawnmower. In our opinion, to save a bit of money and for a lighter machine, a manual push lawn mower is better for smaller gardens that are relatively flat as they have minimal difficulty manoeuvring around obstacles or flower beds.
Petrol lawn mower maintenance
A petrol lawn mower is a great investment because if you treat it properly, it will last you for several years. However, like many things, it will occasionally require servicing and sometimes some minor repairs. With that in mind, it's always a good idea to check the brand of the machine and research the cost and availability of spare parts. In most cases, you will find them easy enough to come by, well priced and readily available so you should be alright. On the other hand, if the parts are not readily available or are expensive as alternatives then you may find yourself with a big decision to make if something does go wrong.
It helps that many of the lawnmowers that made our best petrol lawn mower list come with extended guarantees of between 3-5 years, which is another thing for you to check before you buy.
How important it a petrol lawn mowers engine?
You'll notice that many of the petrol lawnmowers that made our list have Briggs and Stratton engines. This happens to be one of the best quality engines used in the manufacturing of petrol lawnmowers, hence why most models tend to use them. However, there is a range of other good engines available like Honda and Hyundai's own versions so don't be misguided by our soft spot for Briggs and Stratton.
Is the cutting width of a lawnmower important?
When we talk about the size of a lawnmower there are several different measurements that you could be talking about. The first is the cutting width and this is how wide the lawnmower cuts. Obviously, the wider the mower the fewer trips up and down your lawn that you have to make. Saying this, the advantage of having a large cutting width is then a disadvantage when you are trying to cut lawns that have obstacles, flower beds or tight corners. You should really buy a lawnmower with a cutting width that matches the design of the landscape you will be working on.