Best Petrol Cylinder Lawn Mowers 2022
Best Petrol Cylinder Lawnmowers
Petrol cylinder lawnmowers are a must-have if you are a serious gardener or professional landscaper. They boast more power and manoeuvrability than corded electric options, in addition to better operating times than battery-powered models. At Wonkee Donkee we have tried and tested all of the best petrol cylinder lawnmowers available on the market, combining our findings with real customer feedback to create this Best Petrol Cylinder Lawn Mower Review.
For us, these 3 petrol cylinder lawnmowers are just head and shoulders above the rest, and if you are serious about buying a new machine, picking one of these is your best option. To finish the review, as we always do at Wonkee Donkee, we have written a small petrol lawn mower buying guide. This is designed to help you understand what you are looking for when searching through the different petrol lawn mower options and help you pick the right one for you!
Hyundai Self Propelled Electric Start Petrol Lawn Mower Review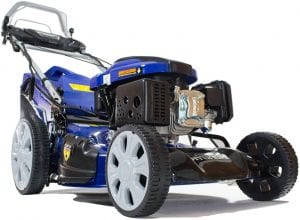 Our number one pick for our best petrol cylinder review is the Hyundai Self Propelled Electric Start Mower. From our testing, this is simply the best petrol mower on the market for many reasons, but mainly due to its effortless cutting and great value for money.
The rear wheel drive and 4 speeds of this self-propelled mower take all the effort out of mowing. It features an electric start which means it starts first time every time, a priceless feature if you're used to using old manual start petrol lawn mowers. In addition, there is an easily adjusted cutting height range from 25mm to 75mm which also offers several different cutting options from collect, drop, mulching, rear and side discharge. Switching through these settings is super quick and easy with spare attachments included for some options like the side discharge chute and mulching plug.
This mower gives a really neat even cut and has a 70-litre grass collector. It also has a grass level indicator which tells you when it needs emptying, which isn't that often! The cutting width is 51cm which makes perfect for medium to large lawns. The deck is easily cleaned by just attaching a hose to the deck cleaning connection. It seems that Hyundai have thought of everything because this petrol cylinder lawn mower just ticks all of the boxes. To us, it is the complete machine and gives you everything that you need for an affordable price. You get so much value for money with this model that you just simply won't regret the investment.
Hayter Harrier Self Propelled Electric Start Petrol Lawn Mower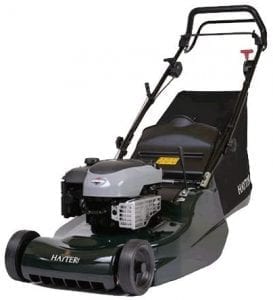 Although it might just get pipped to the post by the Hyundai in terms of the best petrol lawn mower; if you regularly work with large, sloping or uneven landscapes the Hayter Harrier Petrol Lawn Mower would be our go-to option. As you would expect from the Hayter brand, you get excellent quality and the high gloss black paint finish just adds a classy look to this mower. For lightness and strength, the cutting deck is made of high-quality aluminium and the electric key technology this mower starts first time without any need for priming. A charger for the starter battery is also included, although it can be manually started with a pull cord should it be needed.
This self-propelled mower means it is so easy to manoeuvre without the need for any heavy pushing. There are also variable speed options which are easily altered using a simple lever which makes it perfect for when you need to slow down to manoeuvre around beds or features. When we tested it we couldn't believe how well this Hayter Harrier lawnmower glided over the surface, providing an incredible range of movement to cut even the most awkward lawns.
The 13-65mm cutting heights mean you can cut your lawn to the perfect length or pattern, something that is easy to use even if you've never tried it before. Whilst cutting, the grass is collected in a large 55-litre box which fills evenly and allows you to get on with the job without having to regularly stop and unload.
During our testing, this mower gave an amazing cut even though the grass was long and damp which was really impressive. One thing we did notice was the machine is quite heavy, however, its self-propulsion makes using it very easy. This is great whilst in operation, but remember that you'll need to get it back in the shed afterwards.
The Hayter Harrier Petrol Lawn Mower is a beautiful, high-quality machine and can make light work of the most awkward garden. It makes cutting orchards, paddocks and any landscape with uneven surfaces or slopes a breeze. At Wonkee Donkee we do realise that budgets aren't always unlimited, and this model is in the more premium price range. Nonetheless, this doesn't mean that it's not value for money, it has an amazing build and quality performance that is also backed with Hayter Harrier's 3-year guarantee.
Honda HRG 466 Self Propelled Petrol Lawn Mower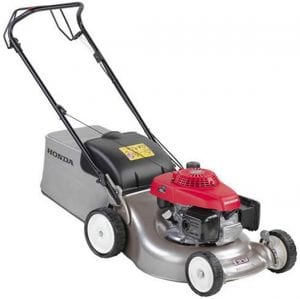 The final model we are including in our best petrol cylinder lawn mower review is the Honda HRG 466 Self Propelled Petrol Lawn Mower. This is our top pick for uneven lawns or bumpy landscapes due to the cutting edge technology used in its operating mechanism. The cutting deck has a cutting width of 46cm and is made of steel which has been specially treated to resist corrosion. Within this deck is an intelligent blade design so that if you hit an obstacle rather than snap the blade it will twist instead. This not only protects the blade from damage but also maintains the cutting length of the grass.
To ensure you get the finish you want there are 8 different cutting height settings that you can easily adjust on the move. Starting this Honda motor is easy with the soft-grip handle cord that provides a consistent start with no customers complaining about start-up issues. Once your engine is running, the self-propelling motion makes it extremely lightweight and easy to manoeuvers around garden features and beds. This mower also picks up clippings very effectively and as the collection box is large it doesn't need emptying too often. When we tested the petrol consumption, we found this machine to be both efficient and economical so ongoing running costs are pretty low.
Honda is known for high-quality motors and the HRG 466 Self Propelled Petrol Lawn Mower is no exception to this rule. It is extremely durable, robust and intelligent in its operation in order to make great cuts. We would recommend this petrol cylinder lawnmower for heavy domestic or light commercial use, providing you with the capability to make professional finishes to lawns at an affordable price.
Petrol lawn Mower Buying Guide
Of course, your choice of lawnmower will be based on what your needs are. At Wonkee Donkee, we have put together a list of some suggestions on what to consider when looking to buy the best petrol lawn mower for you. If you want to know which machine we think tops the list of all petrol mowers then read our best petrol lawn mower review.
Self-Propelled
A self-propelled lawn mower engine provides the power to move the machine forward instead of you pushing it. Perfect for you if the area you need to mow is large, uneven or sloping. The self-propelling lawn mower makes cutting tussocks, long and/or damp grass very easy. Due to the extra power needed to self-propel these lawnmowers tend to come in bigger sizes and can be a bit more expensive. But that is more than worth the value when you have the capability to easily glide over surfaces rather than push your mower everywhere.
Petrol Lawnmower Maintenance
A petrol lawn mower can last you for many years, but it will need regular servicing and possibly the occasional repair. One thing you should always consider is to check the availability of spares the brand you choose has available. Servicing can be undertaken by yourself or you can get someone to do it for you, but if the parts aren't easily available then you can be left stuck with a broken lawnmower. Saying this, most manufacturers now offer a 3-year warranty as standard, so be sure to check this before you make your decision.
Features to look out for:
The key to a good mower is its size and quality of engine. It's important to make sure you choose a reliable brand with a machine powerful enough to get the job done. Don't forget self-propelled mowers need more power.
Size of Mower
The cutting deck size determines how much grass will be cut at a time. For smaller gardens, a smaller decked mower will be ideal, particularly if there are any beds or features to cut round. A larger sized deck mower will quickly make light work of larger gardens.
Starting Options
For starting reliability some mowers come with an electric key start. They have a rechargeable battery to provide the starting mechanism, which means you will have to remember to charge it. Some mowers will also come with a pull-start, which is handy if the battery has not been charged. Some machines will have an automatic choke for a reliable start. Other models are started using priming and pulling. This requires pressing a priming bulb three times slowly to deliver the fuel to the carburettor and pulling the start cord. It is worth reading customer reviews on petrol lawn mowers as one of the main features talked about is the reliability of the start-up.
Size of Clipping Bag
Having to stop and empty the collection bag can be a nuisance. So if you intend on collecting your clippings then choose a mower that provides a larger bag – you won't have to stop and empty so often.
Variety of Cutting Settings
Lawn mowers come with a variety of cutting heights, most often measured in millimetres. So it is worth bearing in mind the type of finish you want for your lawn. On the whole, most are adjusted with a simple lever but some can be more complicated to use. As standard petrol cylinder lawnmowers tend to have a minimum of 4 or 5 different cutting settings which is more than enough.