Top Rated Pressure Washers
Top Rated Pressure Washers
There are some great pressure washers available on the market today and we are going to help you pick the right model to suit you. Obviously, there has to be a Karcher because they are the standard, but we've also opened our doors to other models and I think you might be pleasantly surprised.
The Kärcher K7 Premium Full Control Home Pressure Washer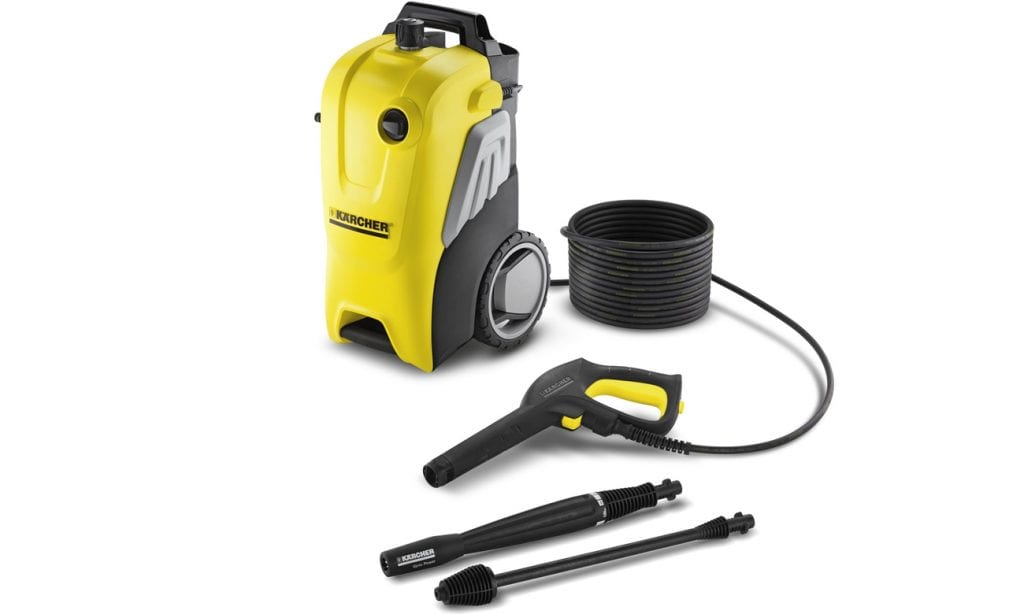 The Kärcher K7 Premium Full Control Home Pressure Washer has recently been redesigned and offers new features, while it keeps the same motor and power. A really easy machine to put together with all accessors connecting with a simple click. Although it may seem a little heavy at 18kg, it will give you the confidence to know it won't get knocked over too easily. Its telescopic aluminium handle means it can be moved around easily while feeling sturdy in your grip. The K7 has a long 8m hose and comes with a handy reel to store it on when not in use.  
The K7 is a well-built powerful machine with 160 bar pressure and an in-built water cooling mechanism that ensures the motor won't overheat. It is environmentally friendly, with a body made of recycled material and by switching on the eco setting it will regulate the water and electricity enabling you to save nearly 20% on water and power. And to top it all off comes with a 5-year warranty.
---
NILFISK C110 4-5 PC XTRA COMPACT HIGH PRESSURE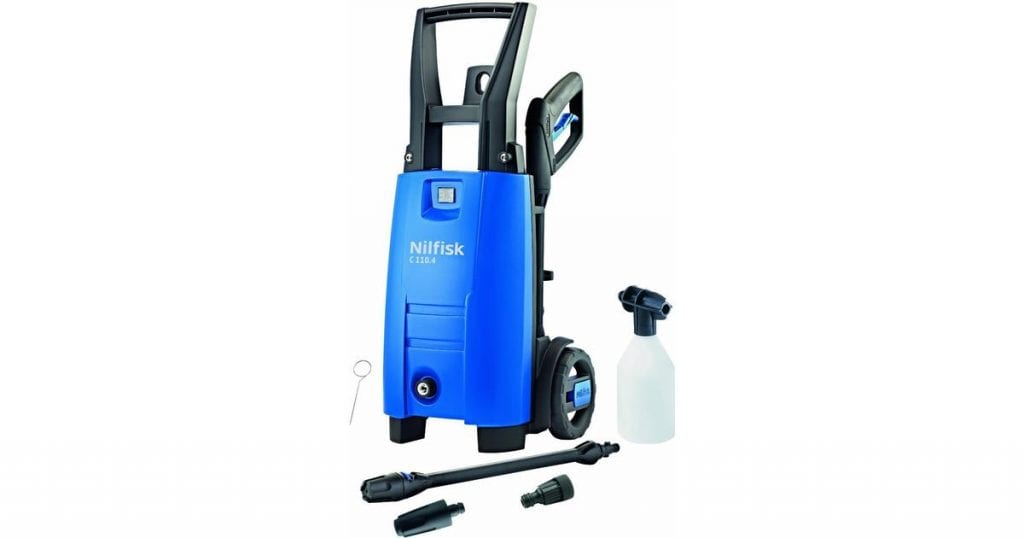 Made by the world-renowned cleaning equipment manufacturer  Nilfisk, the C110 4-5 X-tra PC is a pressure washer you can trust to do the job's it was made for. A compact, light-duty pressure washer with a 1400W motor, 110 bar pressure with 440 l/h cleaning power that can easily tackle cleaning the car. A robust machine that is easy to use, lightweight which gives it great mobility. It comes with a patio cleaner, however, it worth noting it isn't designed to clean years of built of grim or dirt. 
A handy feature is that the accessories can be stored on the washer, meaning you have everything at hand should you need it. Another great feature is the on/off option that if there is a high load the thermal sensor will shut off the pump, saving a lot of water. This pressure washers performance and quality you will find, compared to other models in this range will use a lot less power too, perfect for the environmentally friendly user.
---
Choosing a pressure washer guide
We think it's important to think about a couple of things first before you head off to buy your new pressure washer, why? Because you will want to get the right one for the job you want it to do. The first thing the ask yourself is, who often will I use it and secondly what do I want it to do?
Pressure washers are a really great tool to own as they can do a whole range of different jobs from the weekly car was to cleaning down the driveway after the winter. It's quite easy when you get your new power wash to get carried away by all the things it can do for you, but once the novelty has worn off and it's put to the back of the shed when will it get another outing? This is why it's important to decide what you want to use it for, which will determine which pressure washer you should go for, after all, you don't want to be splashing out a lot of money for it to sit idle most of the time?

It is so important to know what you want to use a pressure washer for when deciding on which pressure washer to buy. As previously mentioned, some people use pressure washers to clean their car as they help remove the dirt quicker and faster than manually doing it with a sponge and hose or bucket. Another example of a light job for a pressure washer would be cleaning a garden fence panel. So with that in mind, will you be just using it for hosing down the car? Which they are brilliant for as they can quickly get rid of dirt so much quicker than the old bucket and sponge. 
There is one thing to keep in mind when using a pressure washer. As great as they are, and the sense of satisfaction they can give when you've hosed things down is to remember they may not always give you the result you wished for. This is usually down to using too powerful a setting on the pressure washer, which can result in removing more than just the dirt – it can take the paint or worse still spoil the surface of whatever you are cleaning. For this reason, it is important to consider the power settings of a pressure washer. Each pressure washer will come with its own power settings, cheaper models tend to have a simple high and low setting. While models with a higher price tag will offer a variety of settings, sometimes called a rating system.
If you only want a pressure washer to wash the car and do light duty jobs then a cheap washer is all you will need. However, if you are thinking of using your pressure washer for more heavy-duty type jobs like cleaning patio's, garden fences or driveways then you are better off buying a machine that has a wider range of power settings. These will make going from one surface to another much easier and it can all be done with a flick of a switch. 
Also, if you will be using your pressure washer frequently then it is important to have one that has durability and is well made. The initial cost will be a little more, but it will pay you back with a higher standard of performance and last you much longer. If however, you're not intending to use your pressure washer on a regular basis then a cheaper model will be your best option.
The more expensive pressure washers can offer you a whole range of things they can clean, from large driveways to football boots. This is because they usually come with accessories and power settings to suit every job. Sometimes it can be a little confusing when looking at model specifications too. We think the two main things to look for are, the length of the hose and how powerful the motor is, power equals the amount of pressure it can achieve. Finally, a more expensive pressure washer will take the effort out of jobs that used to be back-breaking, getting more done in less time in the process.