STIHL Pressure Washers
STIHL Pressure Washers
Stihl is one of the most prestigious manufacturers of tools so it's no surprise they have turned their hand to pressure washers, and with success too. They bring quality, power and reliability, it's been difficult to decide which model is the best, you would be happy with most Stihl models, but we have made our pick.
STIHL RE 98 Entry Level Cold Water High Pressure Washer 440 l/h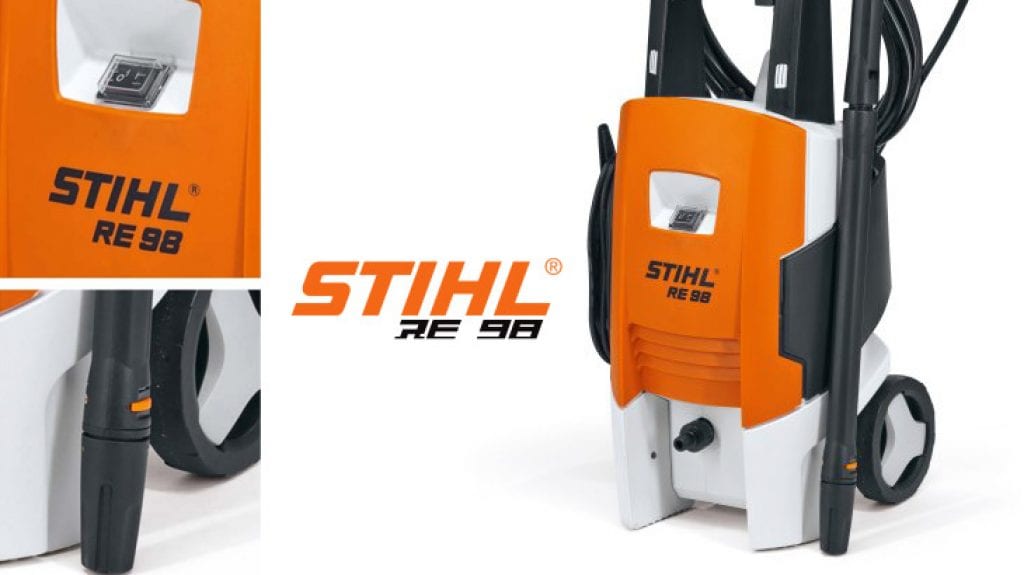 The STIHL RE 98 cold water pressure washer is a great small pressure washer with a quiet and long-lasting induction motor. It has a maximum pressure of up to 120-bar and 440-liters per hour water flow and has been designed for occasional use around the home and garden, for jobs such as washing down the patio or cleaning the car. The pressure washer comes with a high-pressure textile mesh 6-meter hose, which means you get plenty of room to move around while cleaning. The STIHL RE 98 also has a convenient storage holder for all the included nozzles meaning you can access tools easily and you have no fear of misplacing and losing them. 

---
STIHL RE 119 Plus Pressure Washer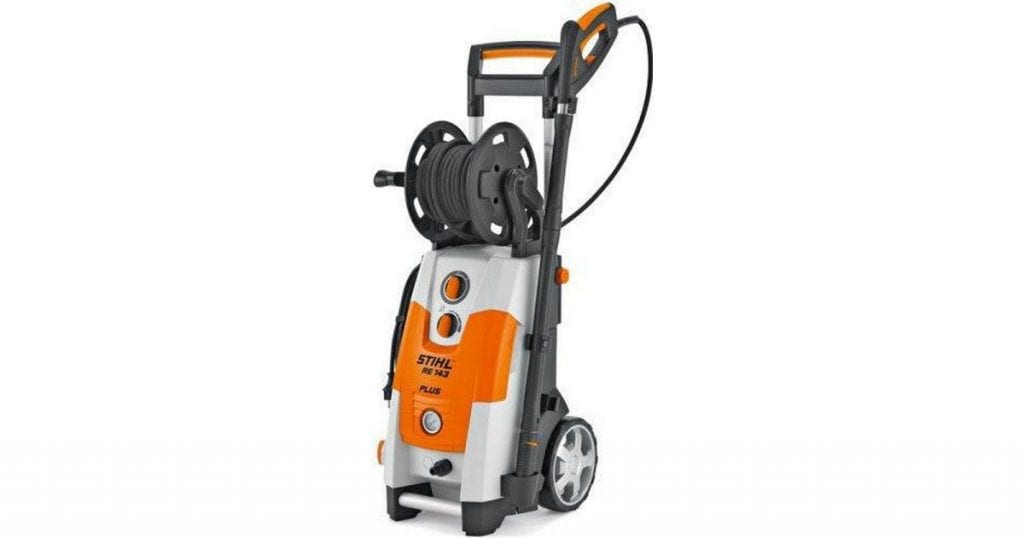 The STIHL RE 119 Plus pressure washer has a unique white, black and orange design. It comes with a maximum pressure of 125bar and will give 500 litres per hour water flow, it also has a long 8-meter hose. A large model this pressure washer is ideal for use on large areas as it will need that extra space when stored away. It works exceptionally well on all that stubborn algae that finds its way into all those nooks and crannies. The washer comes with a range of nozzles for every job and has a neat compact accessory storage pocket at the front of the machine, making accessing tools quick and easy. A sturdy machine that will get all those home and garden jobs done efficiently.

---
Choosing a pressure washer guide
When it comes to buying a pressure washer we think there are a couple of things you should consider before you part with your cash. After all, you will want to make sure you've chosen the right machine for you – won't you? What are those couple of questions? Well, you'll want to know what do you want to do with it and how often will you be doing it.
A great tool to own, the pressure washer can help with a wide variety of jobs around the house and garden. It will make your weekly car wash a breeze and get the garden and driveway looking great after the winter. However, it's worth being mindful that once the novelty of your new pressure washer has worn off it's quite easy to put it away and there it stays gathering dust. Let's face it you don't want to spend your hard-earned cash on a machine that will spend most of its life sat at the back of the shed. So, it is therefore important to decide which pressure washer will best suit your needs.
Deciding what you want to use your pressure washer for is important as it should determine which machine you purchase. A light-duty job like the weekly car wash, with a pressure washer, will cut through all that dirt in no time at all saving both time and energy, so much easier than the 'old' sponge and bucket as it will when hosing down the garden fencing each spring. Are these light-duty types of jobs you'll want your pressure washer to do? 
Now as brilliant as using a pressure washer is, especially when you see how much time and energy they save you is to bear in mind they don't always leave you with the end result you hoped for. The reason for this is usually because the power setting is too powerful for the job at hand or the type of surface you are hosing down. Yes, it will get the dirt off but can also end up taking off the paint or surface finish too! So, it is really important to think about pressure washers' power settings. Most models of pressure washers will come with their own settings, the cheaper models will usually have basic simple settings like high and low. Meanwhile, the more expensive models offer a range of settings, which some manufacturers call a rating system.
If you decide that the only jobs you'll be performing are light-duty, such as cleaning the car, then a cheaper pressure washer will be just fine. If though, you are looking at doing jobs that are more heavy-duty or varied, for example cleaning algae-ridden driveways, patio's or garden furniture then purchasing a machine that can offer a variety of power settings will be the best option. These models of pressure washers will make moving from one job to another much easier and by the flick of a switch, you will be able to change the power settings to suit the surface being cleaned. 
Another consideration is how often you will be using your washer, quality and durability are very important. In the long run, it is worth paying that little bit more in the beginning as you will find the pressure washer will pay you back in how long it lasts and its continued performance. These will also provide you with a wider range of things it can do for you as they come with accessories and settings to suit both light and heavy-duty jobs. However, if your intention is to only use your pressure washer now and again then a cheaper model will be more than enough. 
Finally, sometimes model specifications can appear a little confusing when first buying a pressure washer. It is our opinion that there are two basic things you should look for, one is how long is the hose and the other, how powerful is the motor. This basically means the longer the hose the easier it is to move around the job you are doing and the more powerful the motor the higher the pressure of water the machine can produce.