Ryobi Pressure Washers
Ryobi Pressure Washers
When it comes to pressure washers, Ryobi are pretty new on the scene but they do bring a wealth of experience in power tool manufacturing, especially for contractors or tools that need to be heavy duty. We've handpicked those which we feel are worthy of your consideration.
Ryobi RPW120B Pressure Washer, 1800 W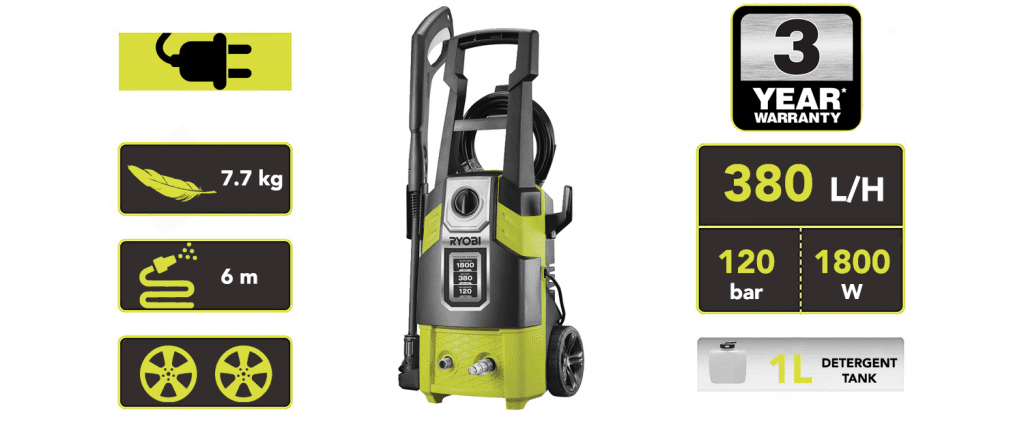 The Ryobi RPW 120B Pressure Washer is a great option for all those general garden and household jobs. It has a powerful 1800W motor which gives the machine up to 120bar maximum of water pressure, delivering a flow rate of 380 litres per hour. It has a 1-litre detergent tank and an on-demand detergent function which is easily accessed from the spray head. The power washer has an upright and compact design on wheels with built-in handles that allows you to move it around with ease and stores away easily.  The Ryobi RPW 120B comes with a 5-metre hose, a Vario lance, trigger gun and spray wand which are all stored conveniently on-board the machine. 

---
Ryobi1700 Pressure Washer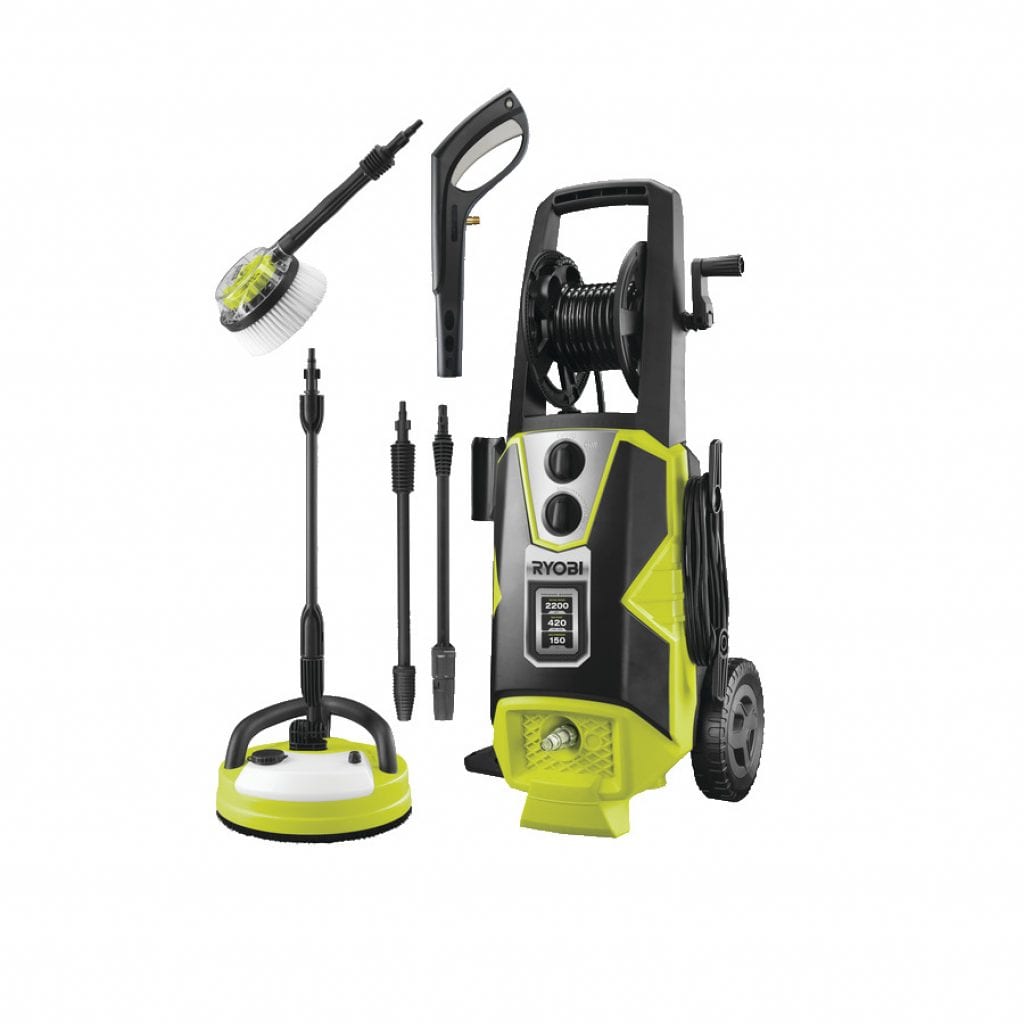 The Ryobi RPW 150XRB pressure washer is a sturdy machine, great for use on jobs such as cars and patios. With a powerful 2200W motor it will deliver 150bar of water pressure and a flow rate of 420 litres per hour. It has a steel-armed 8-meter hose which is made so that it doesn't kink, and comes with a hose reel making storage much easier. The Ryobi RPW 150XRB comes with a Vario lance, turbo lance, a 30cm surface cleaner and rotary brush. The rotary brush does an excellent job of removing a lot of dirt without damaging any paintwork.  

---
Choosing a pressure washer guide
Pressure washers are a great tool to own as they can undertake a number of jobs around the house and garden. We would suggest there are a couple of things to consider first before you decide which one to buy. You want to get the right pressure washer for the jobs you want it to carry out, you'll also need to think about how often it will be used, after all, you don't want to buy an expensive machine to have it sat in the shed for weeks on end do you? As with a lot of new gadgets or toys they are fun and exciting to use when we first have them and then the novelty wears off and they end up going rusty in the back of the shed!!
A pressure washer is a really handy tool to own that can help make light work of a wide range of different jobs for you, from the weekly car wash to the spring cleaning of patios, drives and garden furniture and fences and a whole lot more besides. 
So, it is very important to decide what you will want your pressure washer to do for you. For example, for some folks it's to help do the weekly car was, making the traditional weekend car was much easier and quicker. Another light job a pressure washer is great for is the spring cleaning of garden fixtures and fencing. Both jobs can be tedious and hard work when done the traditional way with a bucket and sponge! 
As great as pressure washers are and the satisfaction they can provide with the number of jobs they are able to do, they do not always give you the results you hoped for. This factor is more often than not is down to the power setting you have put them on while cleaning. If the pressure washer's power setting has been set too high for the job at hand it will not only take away the dirt but can also take away the surface material too. Therefore, it is vital to think about what power settings a pressure washer offers. Every pressure washer comes with its own power settings. The cheaper models will tend to offer a simple two setting function, high and low. The pricer pressure washers tend to offer machines with variable settings usually called a rating system.
Our opinion is that if you just want a pressure washer for washing the car or doing light jobs around the house or garden then a cheaper machine will be all you need. If however, you will be expecting to do both light and heavy-duty jobs ranging from clearing driveways to washing down the garden fence then a more expensive machine offering variable settings is your best option. The ability to move from jobs that require a variety of power settings can easily be done by the flick of a switch. 
Another consideration is, how often will the pressure washer be used. After all, if you will be using your machine on a regular basis then you want to know your machine will last. Spending that little bit more to get a well made durable machine will pay you back in the long run, with better performance and will last you a decent length of time. If on the other hand, your pressure washer is just for 'now and then' use then a much cheaper model will be all you need.
More expensive pressure washers will offer you a wide range of jobs they can do for you such as the ability to clean down large driveways, wash down garden furniture to more delicate things such as trainers or football boots. They will usually come with a host of accessories and settings that make them suitable for any job. Model specifications can be a little confusing so we think the main two things to keep an eye out for are, how powerful the motor is and what is the length of the hose. To conclude, more expensive pressure washers will take the effort out of all those cleaning jobs that we find back braking and in the process saving us time by getting the jobs done a lot quicker.