Karcher Pressure Washer Review
Karcher are the Rolls Royce of the pressure washer industry. They lead in terms of quality and reliability and also in terms of technological advances. We've limited our reviews to the 2 top-selling models in the entire industry, we'll unpack exactly what makes them so good.
Karcher K4 Pressure Washer Review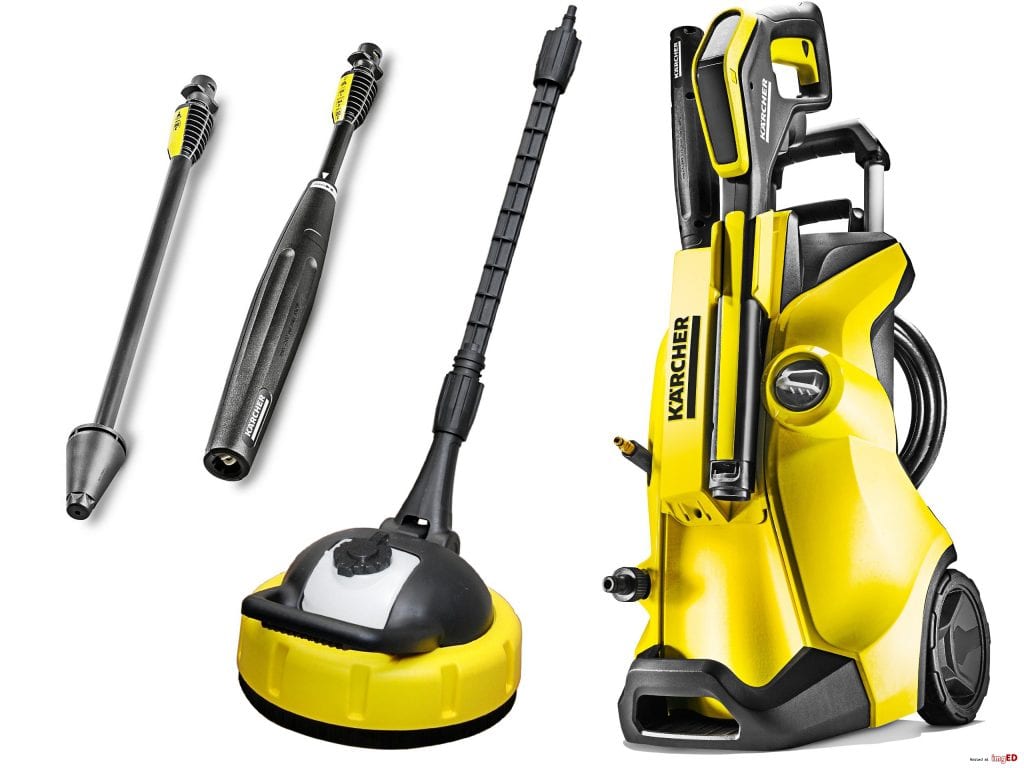 The name Karcher is one of the leading names in the pressure washers market today. They have given the popular K4 model an upgrade to make it even better, including a new sleek design and some new features. The Karcher K4 pressure washer is perfect for domestic use. A machine that's well built, easy to manage and more than affordable. It can be used for anything from hosing down the patio to washing cars. With a 6m hose, 130 bars of pressure and a water flow of 420 l/h it gets the job done with ease. The 6m hose gives this pressure washer the edge over other models on the market, meaning you can reach places others are unable to reach. 
The Karcher K4 pressure washer is easy to set up and although quiet when operating is powerful. The lance, which is similar to a showerhead found on other models can be twisted to alter the pressure and distribution of water, while the new Variospray system gives the user full control making this model the best on the market. The Karcher K4 comes with a dirt buster lance and a T350 patio cleaner. It also comes with an excellent 3-year warranty. All in all this machine is certainly top of the league in the home pressure washer market. 
---
Karcher K2 Pressure Washer Review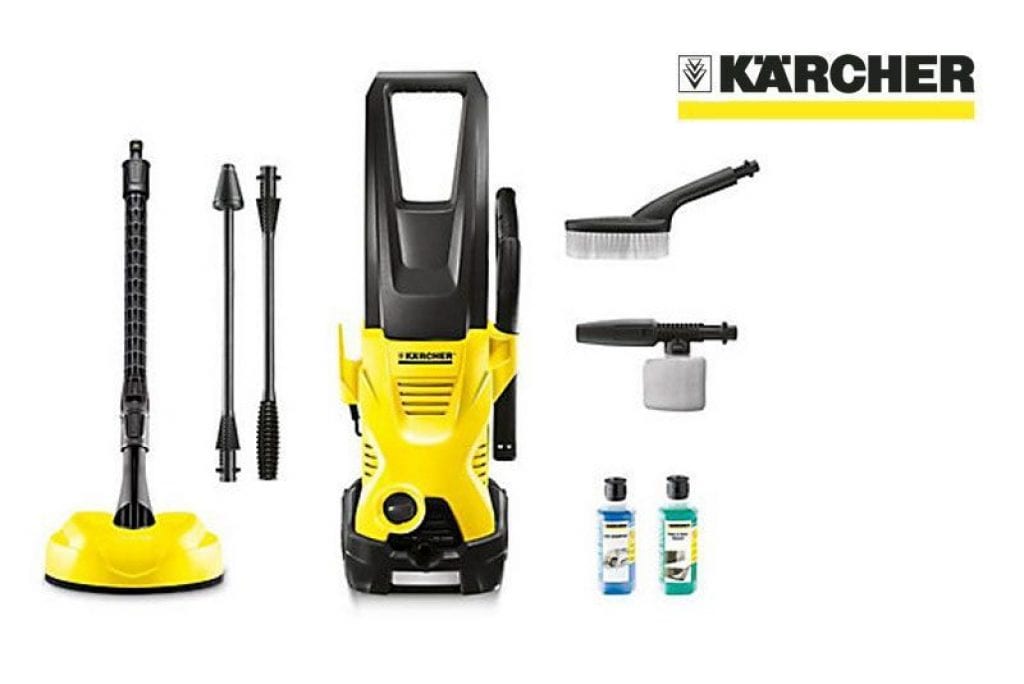 The Karcher K2 pressure washer comes in two models, the Karcher K2 Compact and the Karcher K2 Compact Home. In our opinion there is not much to chose between them, they are basically the same. The feature that sets them apart from each other is that the Home model comes with a patio cleaner, the T150. The Karcher K2 power washer is well known for offering the best domestic pressure washer at the best price, which makes it the best on the market.
This pressure washer is ideal for domestic use around the home and garden. It comes with 110 bar pressure, 360 l/h and a 1400 watt motor. The power it generates means you will be able to remove stubborn stains and dirt without damaging paint or spoiling the finish of the item being cleaned. The K4 is very useful and effective in everyday jobs such as cleaning the car and pavements, while the Home model has patio cleaning capability too. In this range of power washers, the Karcher K2 can't be beaten on price. Although other models may have the ability to remove dirt or stubborn stains quicker, the K2 will get the job done albeit a little slower. However, we still say that the Kercher K2 comes out on top.
The Karcher K4 pressure washer is a powerful and compact machine, that has a lightweight lance and an ergonomic carry handle which makes using the Karcher easy and comfortable to use. All Karcher pressure washers are individually tested before they leave the factory and come with a 2-year warranty. This Karcher model is a great budget pressure washer, which is backed up by worldwide sales figures which we believe will give any purchaser confidence in they are buying the best the market has to offer. 
---
Pressure Washer Guide
What to consider when choosing a pressure washer?
Firstly, here are two questions we think you should bear in mind when thinking about buying a pressure washer. One, how often will you want to use the pressure washer and two, what type will you want it to clean with it?
Deciding on what you want your pressure washer for will determine which pressure washer will be the best to purchase. For some folk, a pressure washer is just for saving time on the weekly car wash while for others it's for doing a whole range of jobs like patio and fence cleaning and more besides. These types of jobs are all pretty light work for the pressure washer. 
It is worth remembering that as satisfying as it may be to wash off all that dirt sometimes, the final result may not turn out just as you hoped. This can be due to the strength of the pressure of water from the washer, you could in such cases spoil the surfaces or paintwork of the item you are cleaning, something you will want to avoid. 
Therefore, it is important to consider before you purchase what type of power settings does the pressure washer have, different models and makes will have a variety of power settings. At the bargin end of the market models tend to offer two settings, high and low, where as at the other end of the budget market some models will offer several settings.
If you are only looking to use your pressure washer for cleaning the car on a weekly basis then a cheaper model will do the job well enough. While if you are looking to use your pressure washer on jobs such as cleaning patio's, driveways and a variety of other surfaces and materials then purchasing a pressure washer with a variety of power settings is what we would recommend. This means you will be able to adapt your pressure washer to the required pressure at the flick of a switch making light work of the job at hand and prevent any unnecessary damage from being done in the process. 
If your intention is to use your pressure washer frequently and you want it to carry out big jobs such as large driveways, then it is important to go for a model that offers quality and durability. If you are looking for a pressure washer that offers continuous high performance, will get the job done in half the time and will last you a long time then you will need to spend more but making that initial investment will pay dividends in the end.