Electric Pressure Washers
Electric Pressure Washers

Electric pressure washers are becoming a must-have item for many homes. They can be used to clean the car, the pavement, the sides of the buildings, clear gutters, and many more things.

We've put our heads together to pick out our favorite pressure washers, the models that deliver in terms of quality but don't break the bank.
Wilks-USA RX550i Pressure Washer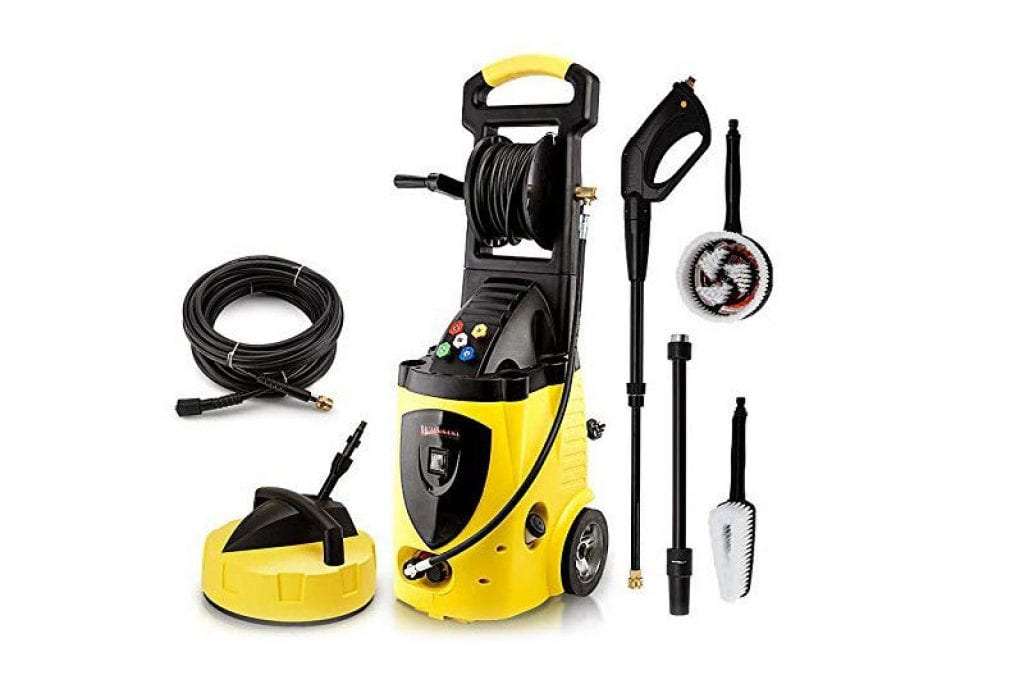 The Wilks-USA RX550i pressure washer is a machine that stands out from the rest! So if you are after an electric pressure washer that packs a punch like a good commercial one but is designed for the home market, then there is no other out there that can beat it!
Basically, the Wilks RX550i is on a par with a commercial pressure washer but made for the domestic market. Its pressure delivery (262 bar of pressure) more than doubles that of more basic machines and has a massive 3800 PSI and an air-cooled motor. It can, at the same time be more 'delicate' when required, coming complete with an arrange brushes and nozzles meaning it can clean any surface you want. 
Even with the power, this machine offers it is still easy to set up and use and will last you for a very long time. Where power is concerned, it has several different settings which means you are in control of the pressure you need or want. 
Although not as well known as Karcher, they are gaining more and more recognition as a great competitor. They have great customer service support, which you'll find you will rarely need and a 12-month warranty.
---
Bosch high-pressure washer UniversalAquatak 135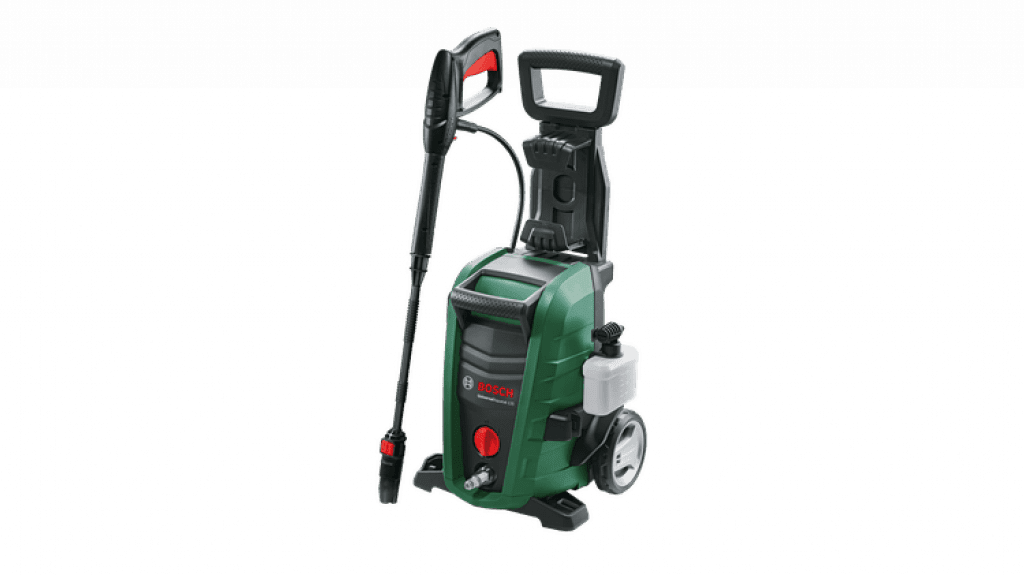 If you're looking for a mid-level pressure washer then you need to look no further than the Bosh UniversalAquatak 135. It may be compact (very small compared to other makes in this level of pressure washer) but packs a pretty powerful punch, producing 135 bar of pressure compared to its competitors who only throw out 100-120 bar, which you will certainly notice when using it. 
As will any good pressure washer the UniversalAqatak 135 comes with all the accessories you will need; a very versatile 3-in-1 nozzle that will allow you to get loads of different jobs done from cleaning the car to cleaning down the driveway. The self-priming pump is a great feature that allows you to use a water source of your choosing, ideal for those who by choice or necessity want to use a water tank that collects rainwater.
This may be the smallest sized pressure washer in the price range but, when compared to its competitors you are getting a lot more power. Plus, you will be getting a high-quality machine the Bosh brand is well known for – not forgetting it comes with a very good warranty too.
---
A guide to chosing a pressure washer
To some, it may seem a bit obvious but we think there are a couple of considerations you should think about before you buy a pressure washer, what jobs you'll want to do with it and how often.
There are an amazing array of jobs the pressure washer can do such as cleaning the car or washing down the driveway or patio. Like any new gadget when you first get it you will undoubtedly want to see what it can do. But as often happens after the initial 'new' phase, it ends up at the back of the garage or shed. 
Knowing what you want to use your pressure washer for will determine which one to buy. Will it be used for light jobs like cleaning the car or garden paneling? They are great for all those lighter jobs, getting dirt off so much quicker than with the old brush and sponge, saving you loads of time and effort. 
Getting rid of all that dirt with a pressure washer can leave you feeling very satisfied, however, they don't always leave you with the results you hope for. This can be down to having the pressure washer on too high a setting where it can also take off paint and worse still damage the surface, something you want to avoid at all costs. 
As pressure washer models will come with the option of various types of settings, it is important to think about this feature seriously. Usually, cheaper models will offer basic settings such as high or low power. Models at the other end of the market will generally offer a variety of power settings, often as a rating system. 
If you are only in the market for a pressure washer that will wash the car then a cheap one will be all you will need. Whereas, if you are looking to do a variety of jobs with different surfaces e.g. driveways, garden panelling etc, then a pressure washer offering a whole range of settings would be far more suitable. The reason being that it is much easier to switch between settings allowing you to work with a variety of surfaces in one go.
Another important factor when buying a pressure washer is, how often will you use it? If you intend to use it often then one which is quality made and durable will be important. In order to get on-going high performance and a pressure washer that will last, spending a little more initially will be money well spent. However, if the pressure washer isn't going to be used very often and will spending most of its life at the back of the garage or shed, then go for a cheaper one.
If your intention is to use your pressure washer for lots of different jobs from the heavy-duty driveway clean to hosing down of a pair of trainers, then spending a few hundred pounds will ensure you get one with the right power settings and accessories you'll ever need. 
We have found that sometimes can be difficult to understand all the specifications, we think there are basically two things to consider; how powerful is the power, meaning how much pressure does it give and what is the length of the hose. In general, most pressure washers will be able to do the task you're asking them to do, however, the more expensive ones will get the job done much quicker saving you time and effort.