Best Summer Sheds
WALTONS Wooden Garden Summerhouse with Side Shed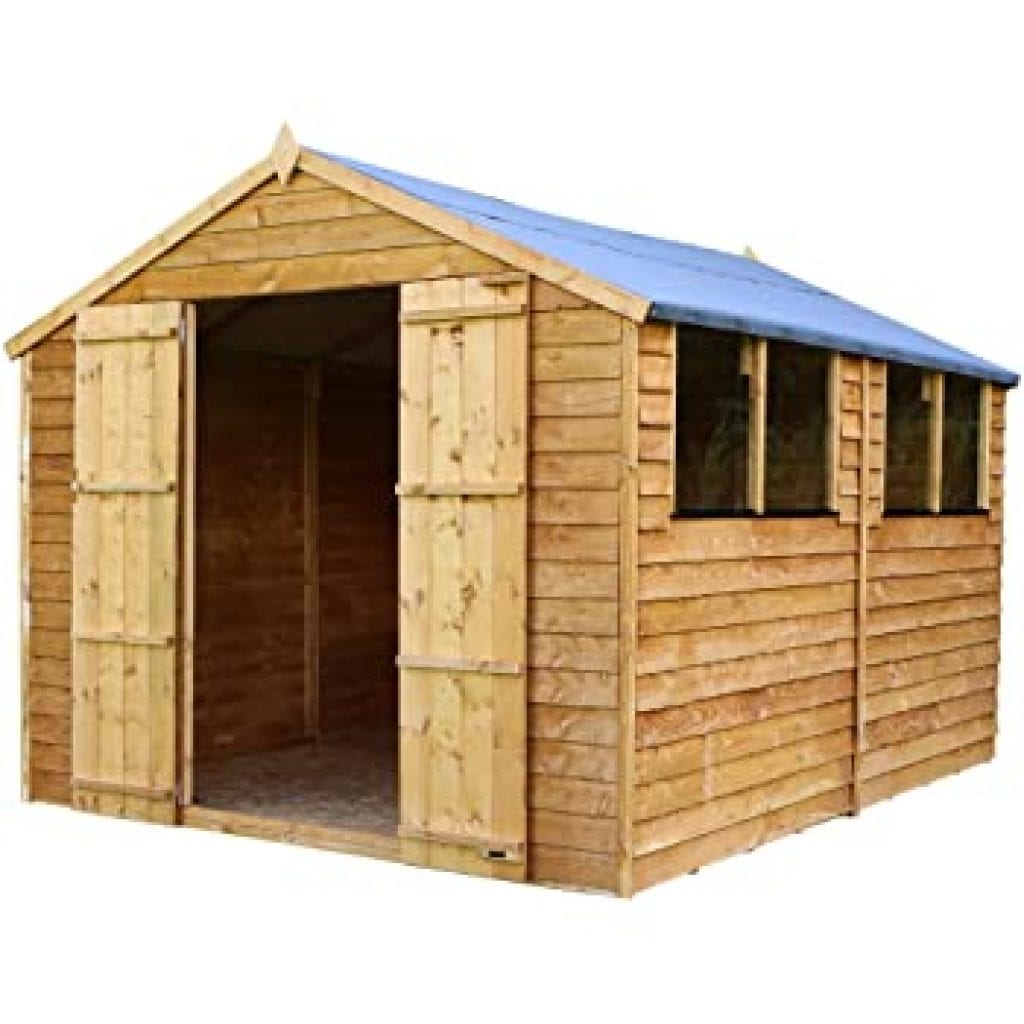 A great option for a wooden summer house with a shed is the Waltons Wooden Garden Summerhouse with Side Shed, offering large windows, double doors and of course the added side shed. With large bi-foldable double doors it provides a large opening, meaning you are able to move around with ease and allows you to get a full view of your garden. The styrene large floor to ceiling windows are not only environmentally friendly but allow lots of light into the summer house, making it a perfect place to work and relax in.
The side shed is a very useful addition, providing a place to store items from the summer house when not in use or as a place to store your garden tools. This summer house is constructed of FSC certified timber and has a 10 year anti-rot guarantee. Made from 12mm thick tongue and groove shiplap panels which when fully assembled covers an overall size of 10 feet by 8 feet. The Waltons Wooden Garden Summerhouse with Side Shed not only offers extra useful storage space but also enhances your garden by looking good.
---
A buyers guide to Summer Houses
Summer houses are a great addition to any garden allowing you to get more from it. They can have many uses, such as being used for a playroom, office, gym or just somewhere to sit and relax. There will be no problem finding one that will suit any garden or purpose as there are a wide range of designs and sizes to choose from.
Following, are a few things to think about before you make you choice of summer house. By taking the time to consider these points will help to make sure you get the right one to suit your garden and your needs. The first two items are question that we are often asked.
Planning Permission
Planning permission is not generally required when errecting a summer house. The reason is that a summer house is considered an outbuilding by the planning authorities. In most cases you are not required to get planning permission to have one installed. There are some exceptions to the rule so it is worth visiting the governments portal to check these out. Please follow the following link to the UK governement website Planning Portal website
Building Regulations
The general rule is that summer houses are termed as temporary structures and therefore building regulations do not need to be followed. That said, if you plan on having plumbing and/or electronics piped to the summer house it is advised you contact your local authority building department for clarification on whether building regs need to be followed.
Design
Design is obviously a personal thing, however choosing a summer house can not only be determined by this. The space available for placing a summer house is as equally important. So, bear in mind when making your chose to think about shape i.e what would look best and what size fits best in your chosen location.
Rectangle summer houses are great looking as well as practical. They can be used in a variety of ways, for example as an office, gym or hobby room because its interior shape can be utilised far more effectively than an more say a corner summer house.
Corner shape summer houses can be the solution to the problem of lack of space in a garden or a way to best utilise an unused corner of a larger garden. They tuck nicely away into a corner and an added bonus will often give the impression that the garden is much larger than it is.
The sumer houses of a more interesting shape such as octagonals are perfect for the larger garden. They offer adding a stylish feature to your garden, giving an around view of the garden as well as being an impressive place to entertain.
Windows and doors need to thought about too. Windows will come in a range of shapes and sizes, and these shapes and sizes will determine how light and airy the summer house will feel. Wndows will be fixed or openable which means you will need to consider how much ventilation you want your summer house to have. Is one of your requirements to be able to have a great view of your garden, in this case full length windows are best. Doors come in various designs too, from a single to double and bi-folding ones, so again consider which will best serve your needs.
Size.
It goes without saying that the size of your chosen summer house will be determined by the amount of space you have available to errect on. Therefore, it is vital that you measure the area you intend your summer house to be put while taking into account the shape that will best serve your requirements.
As previously mentioned some summer houses can help give the illusion of space as with a corner summer house in a small garden. The right size summer house will ensure you will get the most from both your garden and summer house.
Windows
Styrene is popularly materil for windows considered the best for use in summer houses because it is light, strong and difficult to break. Large windows provide the summer house with lots of natural light which can make your summer house an inviting airy place to spend time in whether for pleasure or work.

Weatherproofing and materials
The materials used in the construction of a summer house will inpact how weatherproof it will be, and therefore how long a summer house will last. Timber of a high quality and especially if it has been treated to prevent rot is an important factor to look at, especially if you want one that will last you for a number of years. The roof should also be fully water-tight, which again will help to prevent any damage or rot. The most popular material used in roof covering is mineral based felt. It is recommended that regular re-treating be undertaken to extend the life of a summer house. Worth mentioning is that it is often a requirement of any guarantee that re-treating of timber is undertaken, if not done the gurantee may become invalidated.