Best Summer Houses
Best Summer Houses 2022
BillyOh Tessa Tongue and Groove Reverse Summerhouse 12ft x 10ft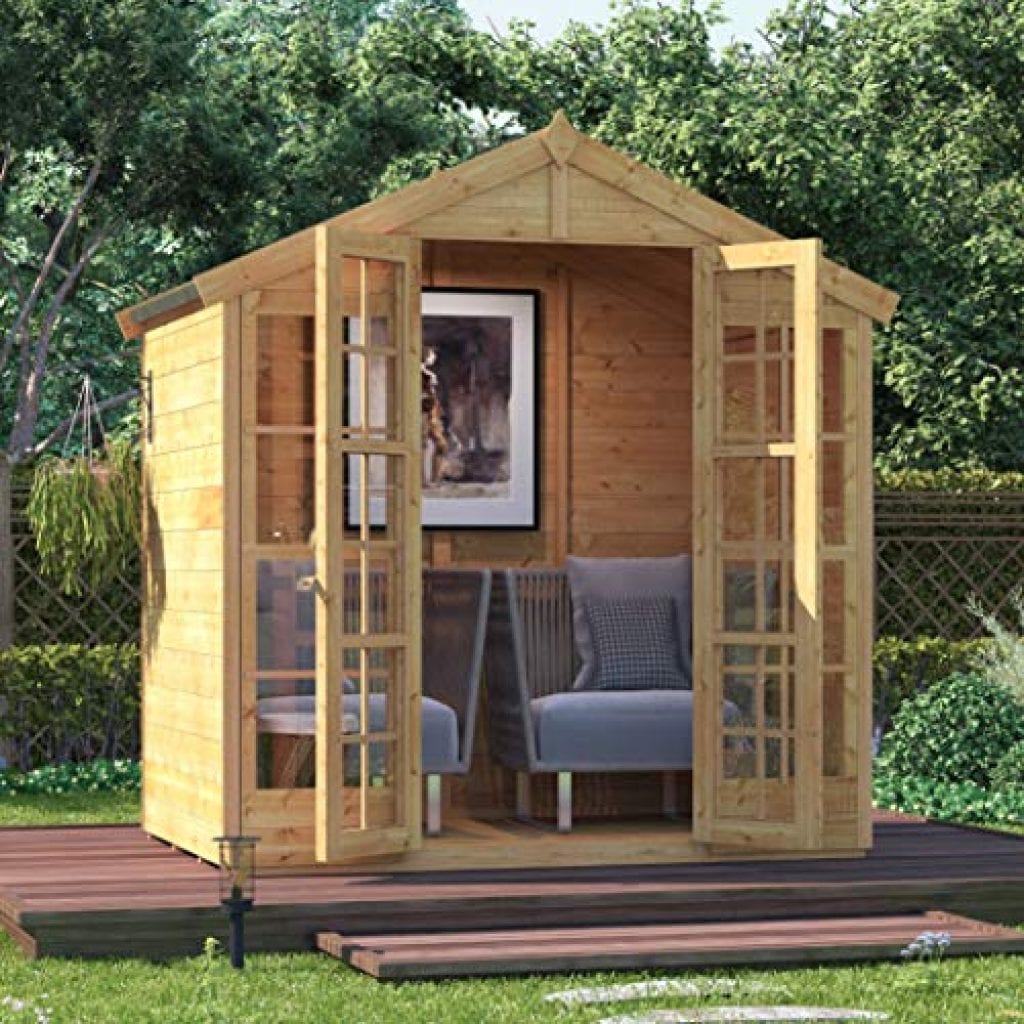 The BillyOh Tessa Tongue and Groove Reverse Summerhouse is a large and lovely summer house, one of the best summer on the market at the moment, easy to assemble, solidly built and with large windows. Its size of 12 feet by 10 feet and its large windows makes it nice and airy, certainly a very pleasant space to spend your time in whether you're using it to work or relax in. 
This summer house is made from excellent quality wood that has been treated so it can withstand any weather. The large windows are both durable and strong too. The roof is also constructed in the tongue and groove design and covered in a green mineral felt, making the summer house fully waterproof. It is a summer house that will certainly be a great addition to any garden, and because of its great build quality, you can be sure it will stand the test of time. 
---
WALTONS Wooden Garden Summerhouse with Side Shed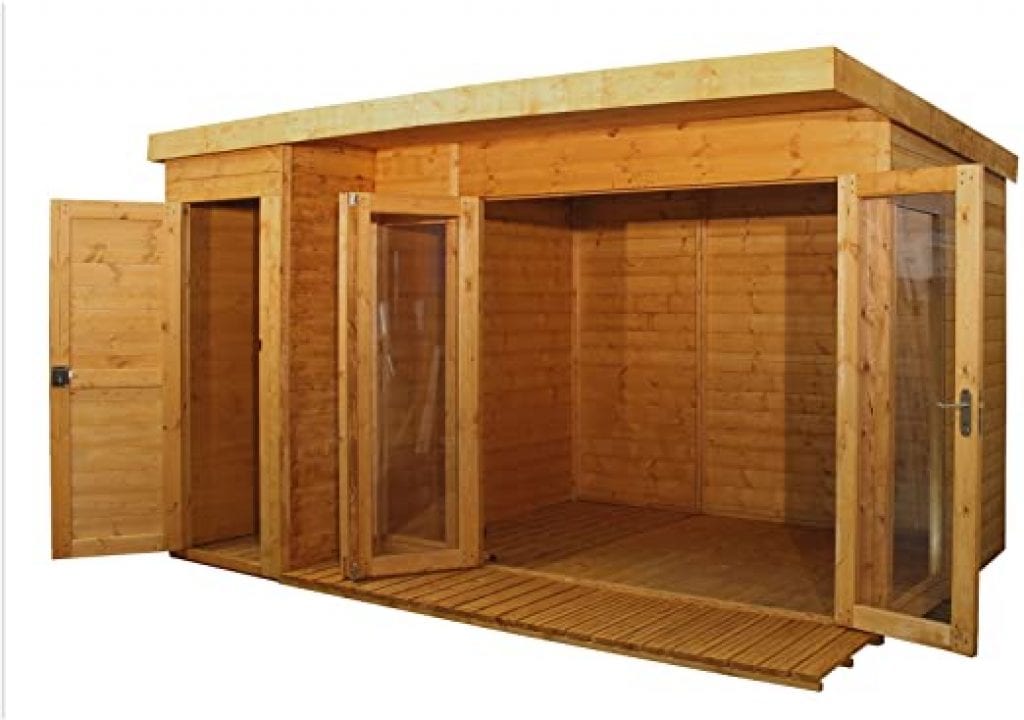 Another great option is the Waltons Wooden Garden Summerhouse with Side Shed, it has large windows, double doors and an added side shed. The large bi-foldable double doors give you a large opening which can be very handy when moving things in and out, while also offering you an unimpeded outlook over your garden. The large floor to ceiling windows are great made of styrene which is eco-friendly and strong. These large windows make sure you get lots of light making this summer house perfect when being used as a workspace. 
The additional side shed is very useful and offers that all-important extra space for storing garden tools or items from the summer house when they are not required or in use. The summer house is made from timber that is FSC certified and comes with a 10-year anti-rot guarantee. With an overall size of 10 feet by 8 feet, it is made of tongue and groove shiplap panels that are 12mm thick. A summer house that not only looks good enhancing any garden but offers extra storage space while also guaranteeing to last. 

---
WALTONS 10×10 Wooden Contemporary Garden Summerhouse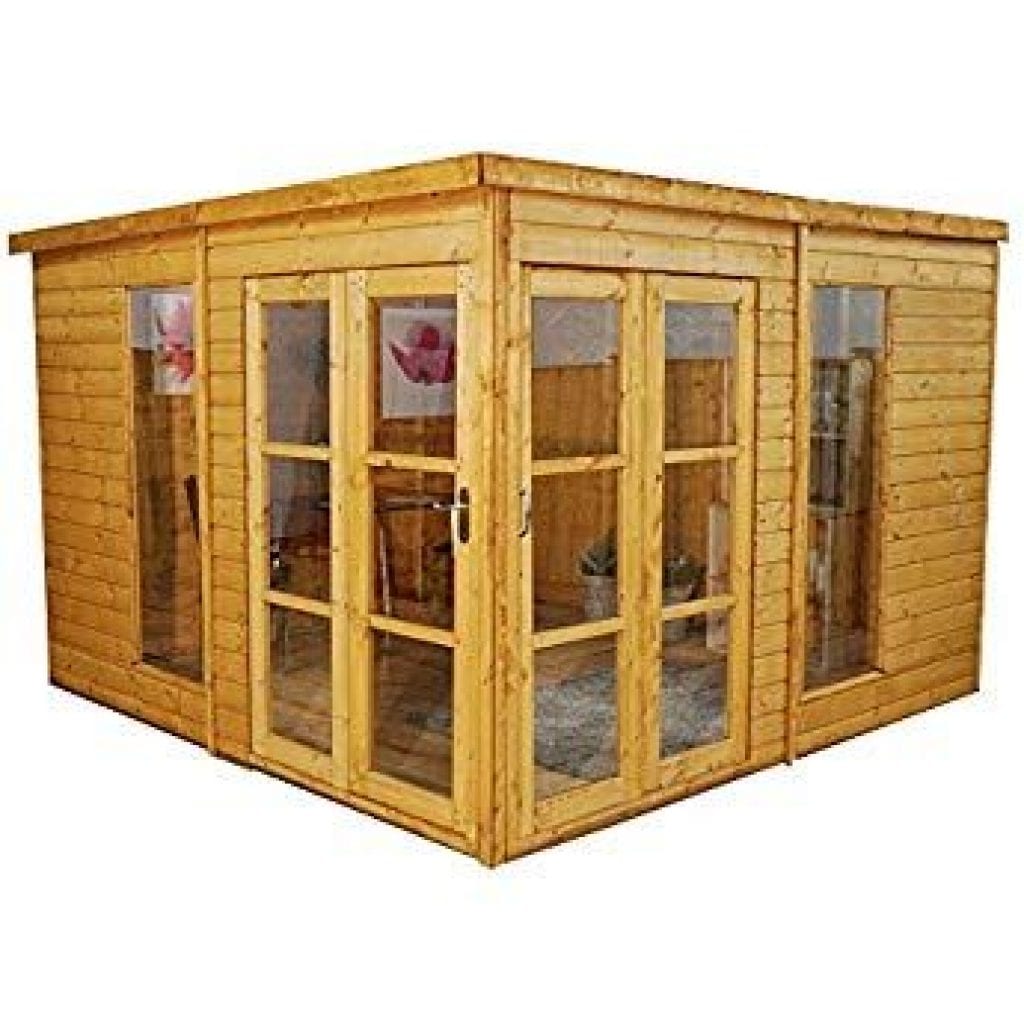 Another summer house from Waltons is the 10 feet by 10 feet Wooden Contemporary Garden Summerhouse. A nice open designed summerhouse with high-quality styrene windows and a 10-year anti-rot guarantee.
This Waltons Summerhouse has come straight from the factory fully dip-coated, so you know that from day one it is fully protected from the weather, especially rain. The roof is covered in a high quality felt making it waterproof. The whole structure, along with the quality styrene windows once constructed make the summer house very hardwearing indeed. The styrene windows are eco-friendly (so you can be sure you are doing your bit for the environment) and very easy to clean. The space-saving design of the large doors means the summer house can be tucked away in a corner of the garden. The summer house also comes with a 10-year anti-rot guarantee giving you that all important peace of mind you made a good purchase. 
---
Shire Barclay Corner Summerhouse 7×7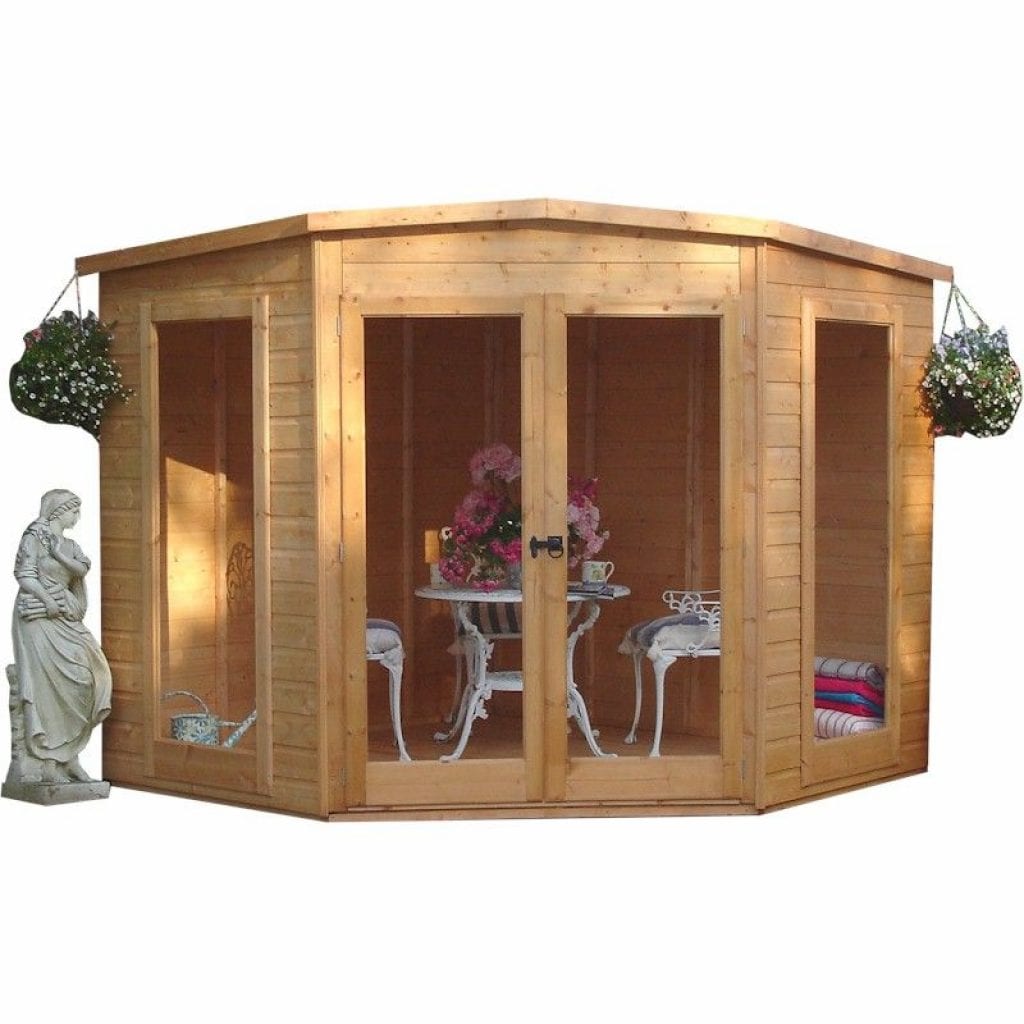 The Shire Barclay Corner Summerhouse 7 feet by 7 feet is a perfect solution for the smaller garden. It can be tucked away in a corner, ensuring you won't lose too much of your garden. Perfect for those gardens that have corner slots that end up not being used for anything very useful and can in fact make your garden appear larger than it is. It is a well-built summer house that has that all-important protective coating. 
This summer house has a lovely design with floor to ceiling windows and double doors so will make a nice feature in the garden as well as create a lovely outdoor room.
This Shire Barclay summerhouse is designed with floor to ceiling windows and double doors. This makes it a great additional outdoor room and a lovely feature to any small garden. Made of good quality wood, It has a sturdy wooden frame that is 34mm thick, with tongue and groove panels that are 12mm thick. The factory coating and the workmanship of the materials, mean that this summer house will withstand all weather conditions and ensure you will get many years of use from it.
---
Wooden Octagonal Summerhouse 8×6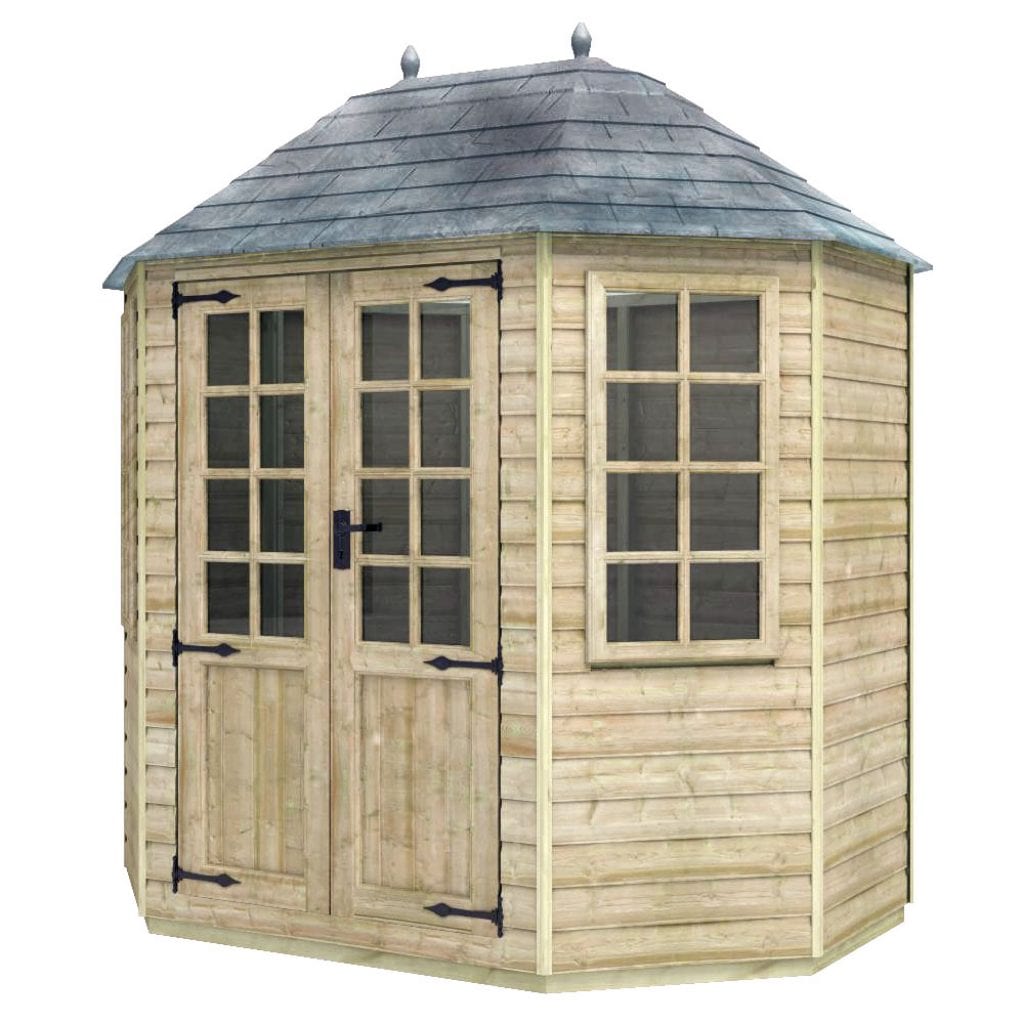 The Wooden Octagonal Summerhouse 8 feet by 6 feet is a lovely summer house that will grace any garden. Its octagonal shape provides your garden with a very charming feature and its quality build with premium fixtures and fittings gives you a very sturdy well-built summer house. The shape also means it can be placed centrally in the garden making it a focal point of the garden while the wrought iron handles and hinges make it look even more impressive. 
The summer house has been treated with an anti-rot coating to protect it from all weather. It also comes with an anti-rot 10-year guarantee which means you have that added reassurance you are buying a quality summer house. 
---
Forest Garden Forest Oakley Summer House 7 x 7 Pressure Treated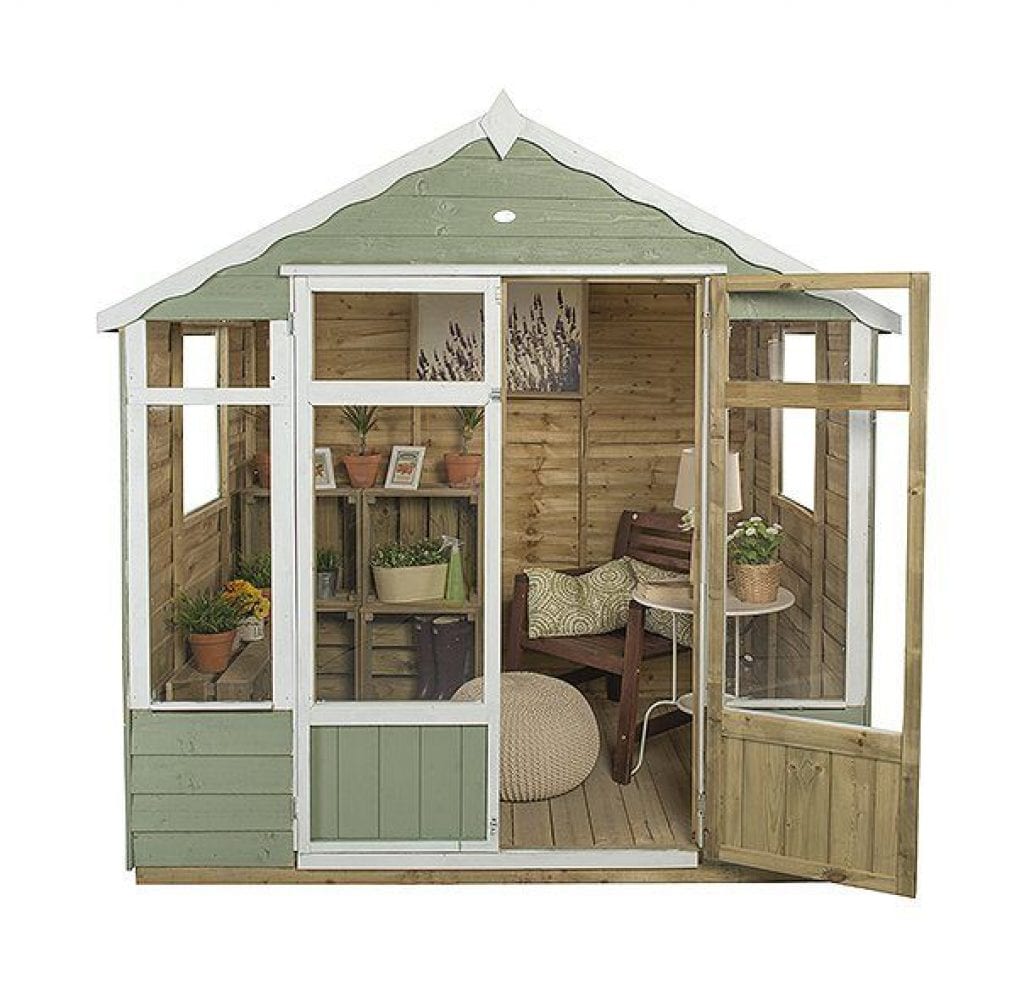 This lovely charming 7 feet by 7 feet summer house from Forest comes with lots of great features, like the double doors and ¾ length windows which allows for lots of light to pour in making it nice and airy. The Oakley is constructed using an overlap board construction meaning rainwater runs off easily and the excellent quality mineral felt roof ensures the roof is total water-tight.
The Oakley is made with timber that has been pressure treated which means you get a 15-year guarantee against fungal and rot damage. The floor is of solid timber making it much stronger than the OSB sheet flooring that is normally used in summer houses, which gives greater weight-bearing capacity for things such as gym equipment and furniture. Windows are lightweight and safe compared to glass as they are glazed with a shatter resistant acrylic. The barge boards are a scalloped and provide a lovely finish to this well made, garden enhancing summer house. 
---
Windsor Vermont 8 X 8 Summer house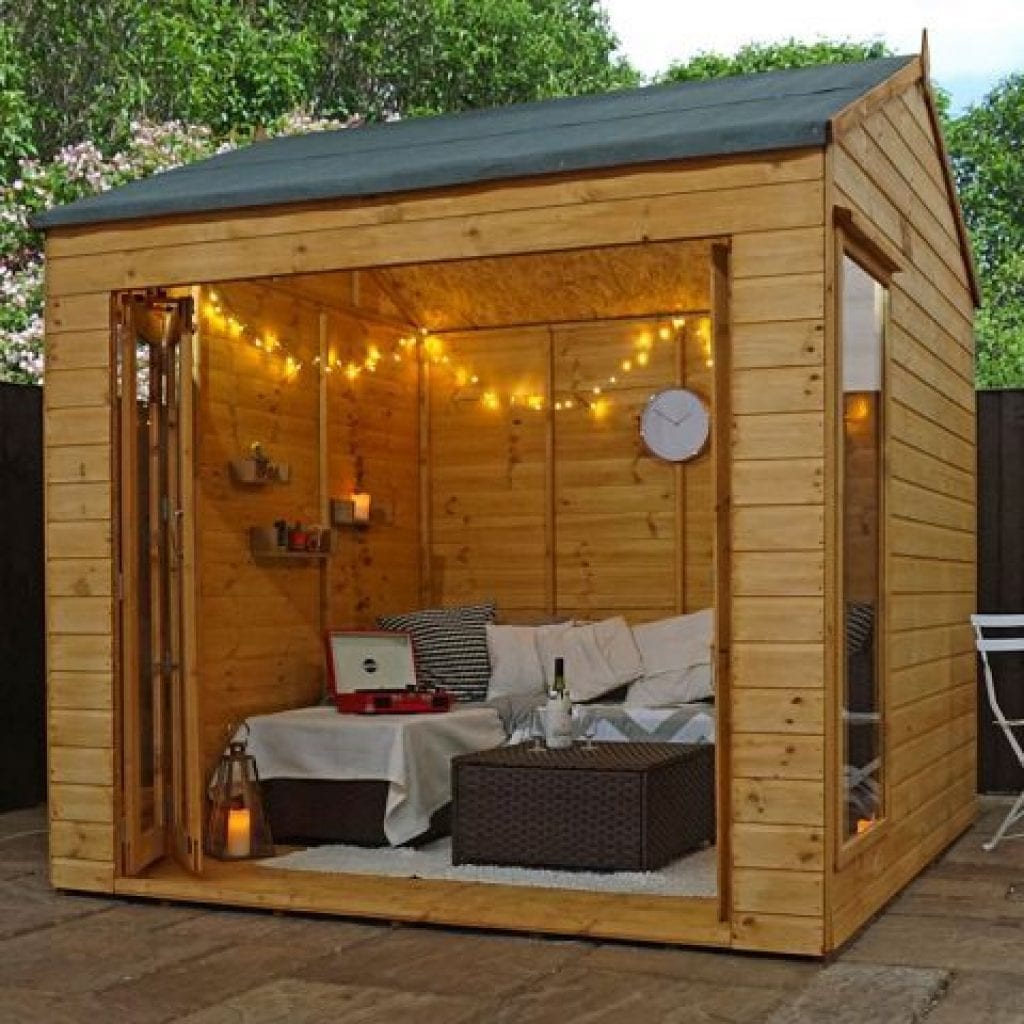 The Vermont 8 feet by 8 feet Summerhouse offers an appealing addition to any garden. It is light and airy making it perfect for both entertaining or relaxing in. The two full length fully glazed bi-folding doors mean you can have an unimpeded view of your garden, and it will give you that extra room to move things in and out easily. Along with the bi-folding doors are two side panels styrene windows which makes the Vermont flood with lots of natural light. 
This summer house is made of 12mm tongue and grove shiplap cladding which has been dip treated, meaning it should provide you with many years of use. The floor is also made of 12mm tongue and grove making it very hardwearing. The timber is smooth finished which means it looks very elegant and stylish, the perfect place to chillax in. The sand felt roof gives a really nice finishing touch to its appearance. This summer house comes with a brilliant 10-year anti-rot guarantee which is supported when periodic re-treatment has been undertaken, which we recommend should be at least yearly.
---
Premier 9 X 9 Corner Summer House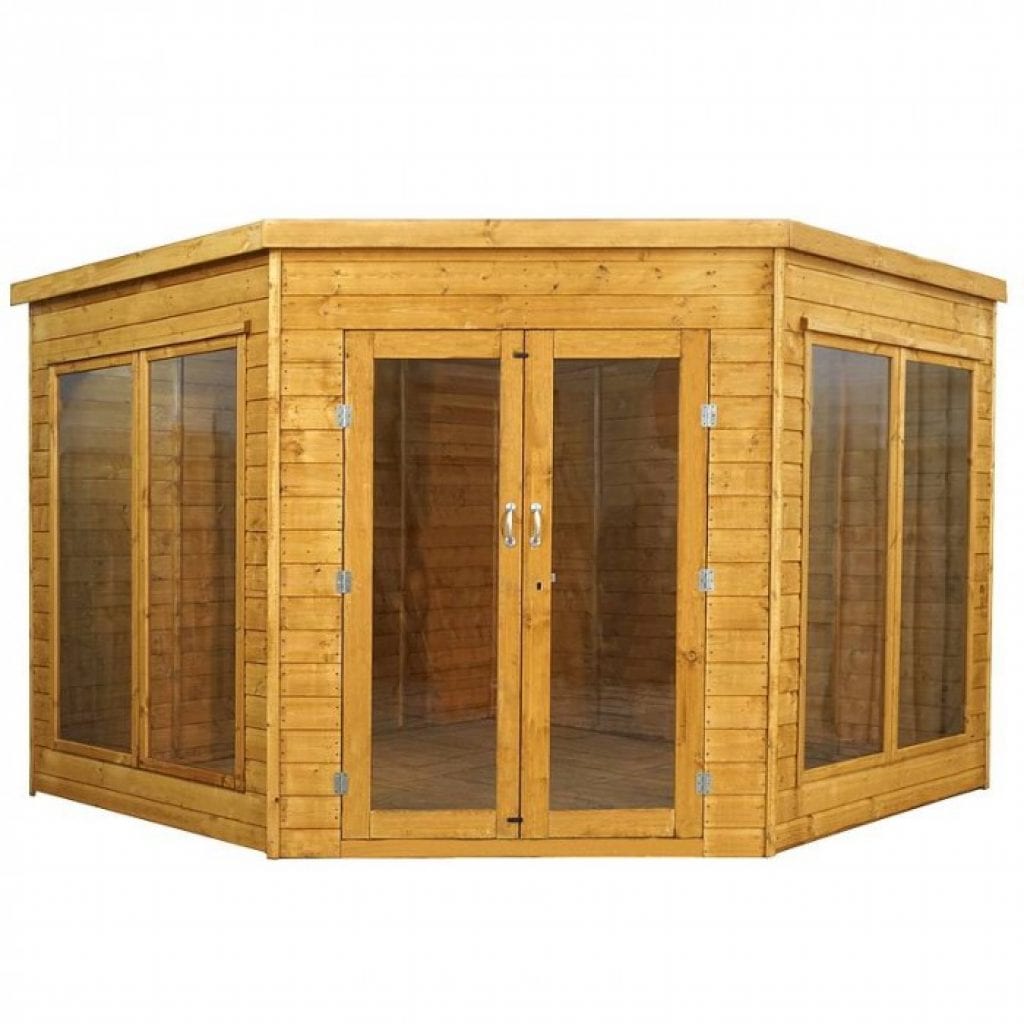 The Premier 9 X 9 Corner Summer House has large fixed windows that make it light and airy inside, however ventilation on a hot summers day can be obtained by leaving the doors open. The windows have 2.5mm glazing which is virtually shatterproof and perfect for windows of this size, safer than standard glass. The fact they are fixed means you have added security too. Assembly is fairly straightforward as walls, floor and roof panels all arrive pre-formed and the windows are pre-installed while the door is easily hung. 
The summer house is in the budget range of summer houses and like most others in this price range are finished in 12mm shiplap with 28mm x 28mm framing, which once constructed will be a sturdy and strong structure. Add to this the tongue and groove floor and roof you have a durable and stable summer house for the price. As with any budget summer house of this construction, you may need to do a little smoothing and filling as 12mm shiplap has a tendency to crack and have knotholes unlike much heavier grades of wood. The timber is only dip treated prior to delivery so it is important to treat once assembled and to treat on a regular basis to keep it in the best condition as possible and to ensure the longevity of your summer house.  
All the same, for its price this summer house is well worth a mention and you get a lot for your money.
---
Forest Garden – Alderley Log Cabin – 4.0m x 3.0m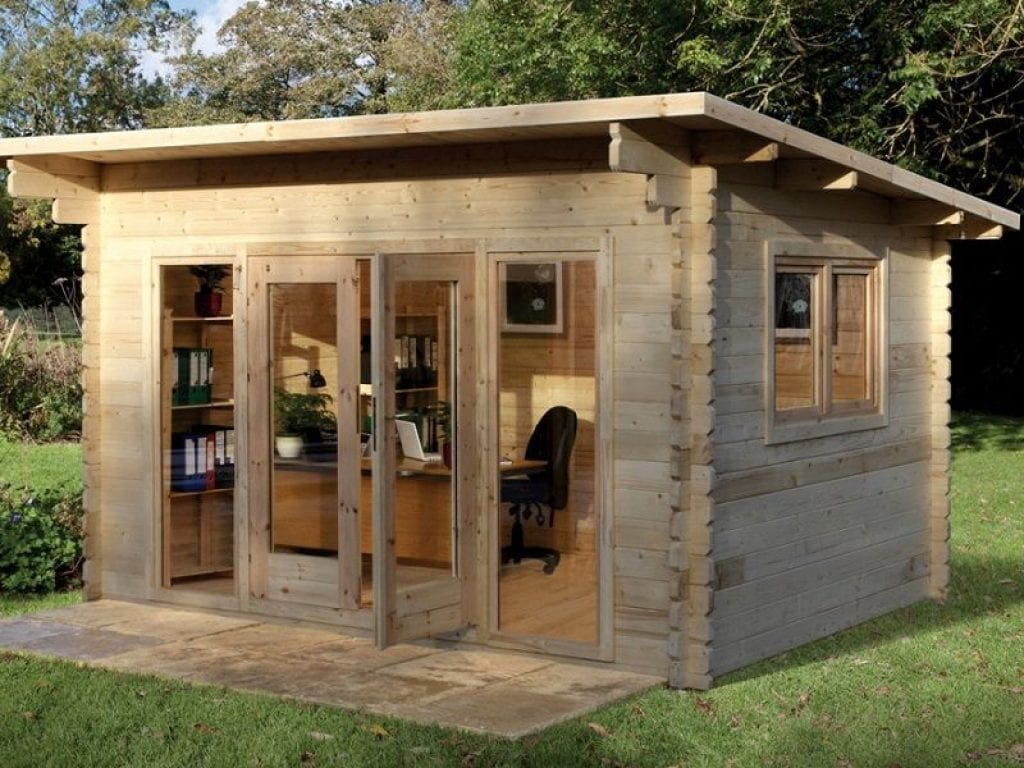 The Alderley Log Cabin is a quality, high-spec, spacious and attractive wooden log cabin. With a distinctive dormer roof feature, it has windows to the front and sides meaning you get to enjoy the garden from a variety of angles. The size of the Alderley Log Cabin gives you plenty of space to use for a wide range of purposes such as entertaining, an extra room or just for relaxing in. It is designed to look like a classic log cabin with overhanging eaves and chalet corner joints. The 3 long opening windows and glazed double door provides lots of light and ventilation. 
The Alderley is made from kiln-dried logs a process that helps to reduce warping and splitting to a minimum. As with any timber structure, it is important to treat the wood so once the cabin has been assembled it will need to be treated. This cabin has been manufactured from FSC certified timber from sustainable sources. 
---
Green Planet UK – 8×6 Octagonal Summerhouse/Garden Retreat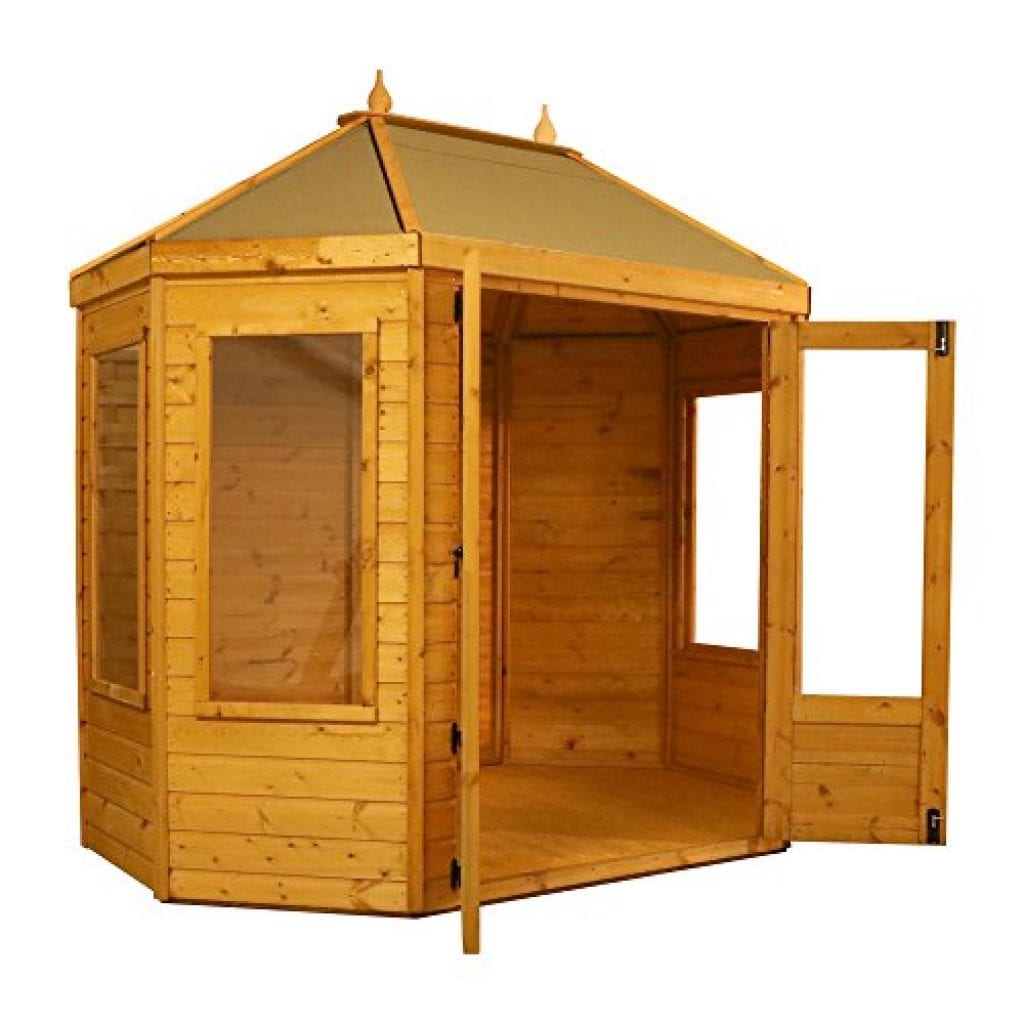 This wooden Green Planet Octagonal summer house offers a very stylish attraction to any garden, making it a focal point of interest. It has an airy and bright interior making it ideal for a reading room or just somewhere to relax and chill out. It has 100% shatterproof styrene windows which are also UV treated, which also offers extra strength and durability, while its lockable double doors gives added ventilation on a hot summers day. This summer house is built using 12mm shiplap cladding, a 12mm tongue and groove roof and floor. The roof is covered with green mineral felt. 
---
A buyers guide to Summer Houses
A summer house can be a way of getting a lot more out of your garden. It can provide you with a place to use as an office; a gym, hobby or playroom or a place to sit and take in your garden and relax. You will not have any problem finding a summer house to suit your home and garden as there are a wide range on offer in various designs and sizes.
Here are a few things to consider before making your summer house purchase, the first two are points often asked by purchasers.
Planning permission
In general, no planning permission is required. A summer house is considered an outbuilding by the planning authorities, and in the majority of instances it is not necessary to get planning permission to have one installed. There are some exceptions however so it is worth going to the governments website to check these out. Here is the link Planning Portal website 
Building regulations
Summer houses come under the category of temporary structure and as such do not come under building regulations. However, if your summer house is to have plumbing or electronics it is wise to contact your local authorities building control department for advice on what their requirements are. 
Design
Ultimately, the best summer house for you is not only one you will like but one that is suited to the area you want to place it. So, one of the first considerations to think about is shape as summer house designs are quite varied both in shape and size.
The rectangle-shaped summer house is great to look at while offering practical space on the inside. This shape means it is easy to place furniture, use as a gym or even an office. 
The corner shaped summer house is great for the smaller garden as it can be tucked in a corner or for a larger garden where there is an unuseful corner of the garden.
The more interesting shapes such as octagons can be great for adding that something special to a large garden. These shaped summer houses can offer a stylish focal point to the garden.
Included in the design of a garden summer house are the extras such as windows and doors. Summer houses that have large or double doors can enhance the design of a summer house, while making the light and airy. Windows that are floor to ceiling design are both enhance the design and offer lots of light into the interior of the summer house.
Size
Obviously, the size of summer house you choose will depend on what space you have available in the garden. Therefore, one of the most important things to remember is to correctly measure the space you want to put it, you'll be sure to get the right summer house then.
It is worth noting that the 'feeling of size' can be greatly influenced by the design of a summer house. For instance, a corner summer house can appear small tucked away in the corner making the garden seem much larger. The rectangle shape will appear large on the inside because furniture can be placed around the sides making moving around in it much easier. 
Windows
Windows made using styrene are by far the best windows for garden summers houses as they are both strong and light. This material is very difficult to break so it is perfect for use in the garden. Large windows will mean you get as much light as possible into your summer house meaning it will be a bright and inviting place to spend your time in. 
Weatherproofing and materials
Weatherproofing comes from the quality of the materials made. A summer house needs to be made from good quality wood with a protective coating in order to resist water and rot. In addition, a summer house needs a waterproof roof to ensure it is watertight.  Most manufacturers use a mineral felt material to achieve this as it is the best for these types of outside buildings. Finally, it is important to note that most guarantees are only validated if regular re-treating has been undertaken.