Best Small Summerhouses
Forest Garden Forest Oakley Summer House 7 x 7 Pressure Treated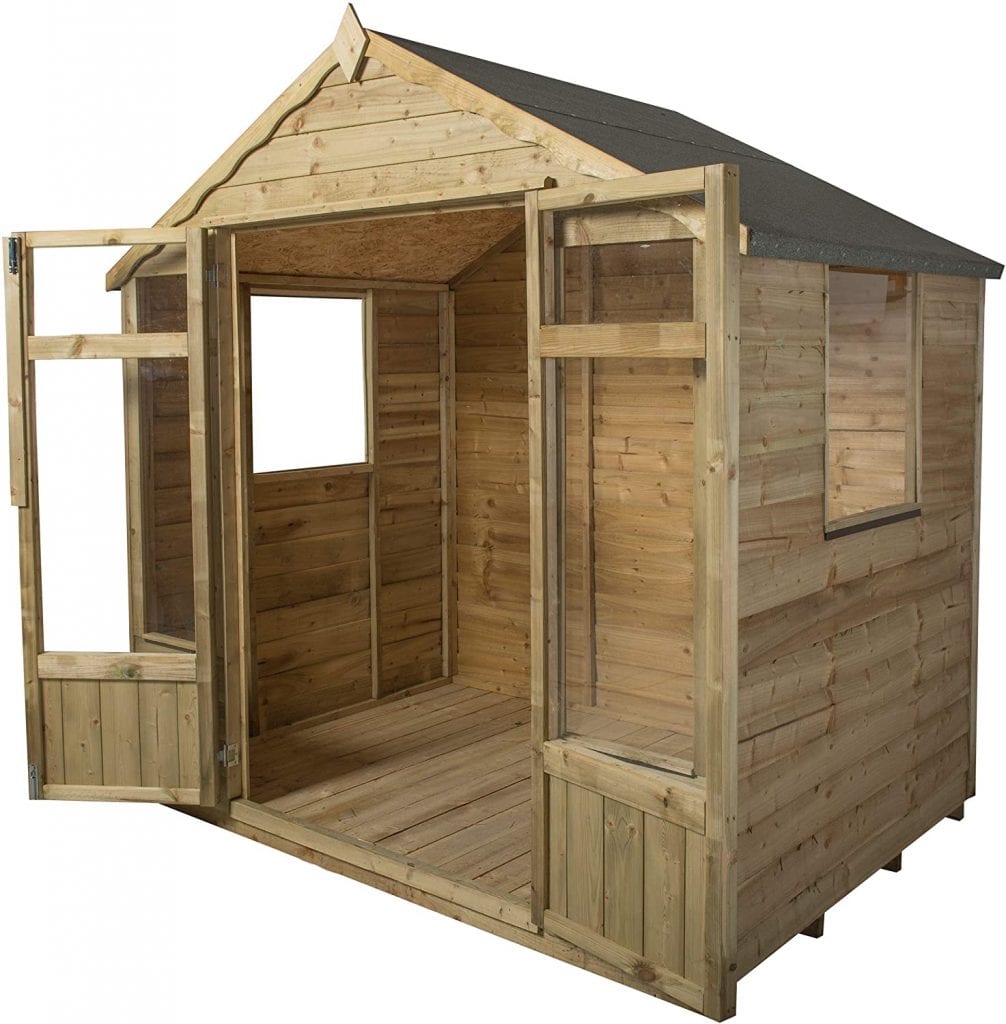 The charming 7 ft x 7 ft Oakley Summer House from Forest offers some lovely features. It comes with ¾ length windows which means you get lots of light and double doors that help make it nice and airy, a very pleasant space to spend your time in. It is made using overlap board and constructed in such a way to ensure rainwater runs effectively off. The mineral felt roof gives excellent protection by making it totally water-tight.
The Oakley comes with a 15 year gurantee which is made possible because the timver has been pressure treated to help prevent any fungal or rot damage. The solid timber floor is better than the OSB sheet flooring that is used in many summer house constructions. It offers added weight bearing ability making it suitable for withstanding heavy gym equipment or furniture. The windows are of an acrylic shatter resistant material making them light and giving added security. The scalloped barge boards give this summer house a lovely finish making it a really attractive addition to any garden.

---
A buyers guide to Summer Houses
A summer house can be a way of getting a lot more out of your garden. It can provide you with a place to use as an office; a gym, hobby or playroom or a place to sit and take in your garden and relax. You will not have any problem finding a summer house to suit your home and garden as there are a wide range on offer in various designs and sizes.
Summer houses can provide be a great asset to a property and help people to get more from their gardens. They are can be a way to enjoy your garden all year round, used as an office, a gym or an extra play area for the children, it's uses are many. You will find there is a summer house for every type and size of garden which can be a bit confusing to know which one will best.
So, to help you decide on which summer house is best here you will find a few basic things you will need to give consideration to. Read on to see what the main considerations are before you head off and spend your hard earned cash.
Planning permission
In most case no planning permission is required. A summer house is considered an outbuilding by the planning authorities, and in the majority of instances it is not necessary to get planning permission to have one installed. There are some exceptions so it is worth checking these on the governments Planning Portal website
Building regulations
As a rule summer houses are normally catergorised as a temporary structure and as such do not need to heed building regulations. If however, if plumbing and electronics are to be used in the summer house it is advisable to check for guidance with the local authorities building control department.
Design
Finding the best summer house is not only based on whether you like it but also on what best suits the area it will 'live'. Therefore, a major consideration will be to consider the design of it i.e the shape and size of it and as you will soon find out there are several to choose from.
A rectangle summer house is a handy shape as it offers practical interior space. Furniture and equipmnent can be placed easily to provide an effective use of the space. When placed in the right area of the garden they can look good too.
A corner summer house are perfect for the smaller garden or for making use of that disused corner in a large garden. It will tuck nicely away and can even make a small garden appear larger than it is.
Interesting shaped summer houses e.g octagons offer the larger garden an elegant stylish feature as well as being a useful asset to the home and garden.
Summer house windows and doors are another design feature to consider. Some will come with large or bi-folding doors which can enhance the look and provide the feel of lightness and space. Windows come in a variety of designs such as full length floor to ceiling, fixed or opening. They will determine how much light enters the summer house so always an important consideration.
Size
Size is determined by what space you have available for your summer house. Measuring up the area is fundamental to ensuring you get the right one. After all it would very disappointing and costly to find you have bought totally the wrong size and shape to fit or suit your garden.
If you are limited to space it is still possible to have a summer house and give the illusion of more space. This can be seen in the use of corner summer houses in small gardens, when tucked a way in the corner they can help give the impression he garden is much larger than it is.
Windows
Many summer houses come with windows made with the material styrene. A strong and light material which is difficult to break it is ideal for the use in outdoor structures such as summer houses. The size of windows will also be important as you will want to have as much natural light, so the larger the better as it will make your summer house a pleasure to spend time in.
Weatherproofing and materials
The quality of materials is another important consideration were waterproofing is concerned. Good quality wood that has been treated to prevent rot and water damage will give you a summer house that will withstand any weather condition. The roof needs to be fully water-tight too, and you will find that most summer houses come with a mineral felt cover that is known to be the best.