Best Octagonal Summerhouses
Wooden Octagonal Summerhouse 8×6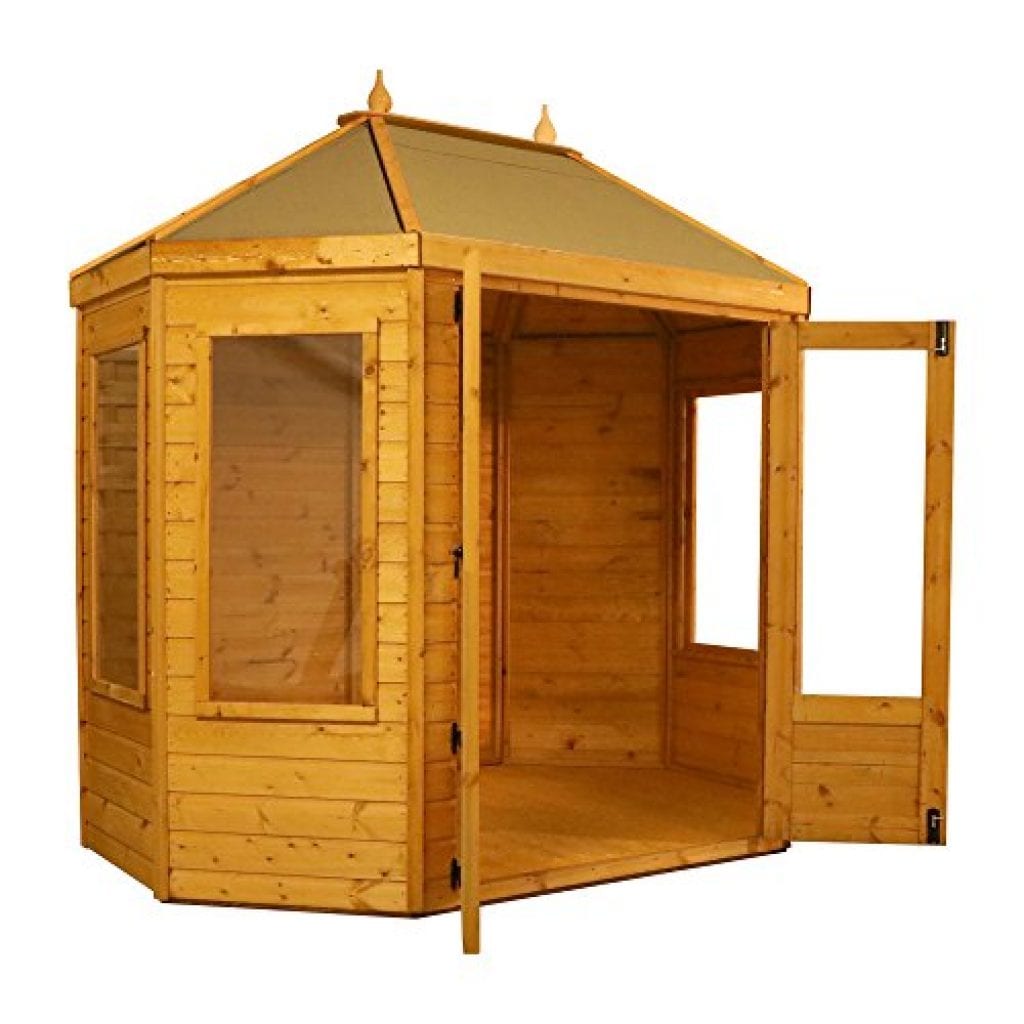 The Wooden Octagonal 8 X 6 Summerhouse will make a perfect addition to any garden. The charming octagonal design and quality of its construction and premium fixtures and fittings will provide you with many years of pleasure both practically and visually. The octagonal shape makes it perfect to be placed centrally in a large garden, which will give you the abilty to view much more of the garden around you.
This summer house comes with an anti-rot 10 year guarantee because it has been given an anti-rot coating to help preseve it. This guarantee means you have the assurance of quality and workmanship and are safe in the knowledge that the summer house will provide you will many years of use and pleasure.
---
Buyers guide to Summer Houses
A summer house can be a way of getting a lot more out of your garden. It can provide you with a place to use as an office; a gym, hobby or playroom or a place to sit and take in your garden and relax. You will not have any problem finding a summer house to suit your home and garden as there are a wide range on offer in various designs and sizes.
If you want to get more from your garden then a summer house will help to achieve this. They can be used for many different purposes such as a relaxing space, an office, gym or provide extra space for the children to play and have fun in. There will be no problem finding a summer house to suit your needs however it is worth considering a few things first.
So, here are a few things we think you should take into consideration when you are deciding on the best summer house for you.
Planning Permission
A summer house is considered an outbuilding by planning authorities, and in the majority of case it is not necessary to obtain planning permission to errect one. But, there are some exceptions to this such as in the following cases:
Lsisted building
To be erected at the front of a property and facing a highway
Covers properties surrounding area by more than 50%
On designated land e.g national park or area of outstanding beauty
To be errected within 5 metres of the property – if so considered an extension
Guidance and information can be found on the governments Planning Portal website
Building Regulations
Under normal circumstances summer houses are considered as a temporary structure and therefore building regulations do not apply. If however plumbing or electrics are to be supplied to the summer house it is worth contacting your local authority building control department for guidance.
Design
Personal taste in design is not the only factor when considering which summer house you purchase, the area of the garden it will occupy will be equally important. So wth that in mind, one of your first considerations will be which shape and what size will fullfill your requirements.
A popular shape is the rectangle, a shape that looks good in most gardens and is practical too. Its shape allows the interior to be used usefully as furniture and equipment can fitted in to make the most of the space available e.g around the exterior walls. This makes this shape perfect for using as an office or gym.
Corner shaped summer houses are ideal for any garden. They can tuck nicely a way in a corner of a small garden, often giving the illusion the garden is much larger than it is. While when used in a larger garden they can be great for placing in corners that go under utilised.
Interesting shapes like the octagon provide that something special to a large garden. They will often become the focal point of the garden becoming a pleasing and stylish feature to the observer, while still retaining its usefulness for such things as entertaining or relaxing in.
The design of windows and doors also need to be thought about. Again, your chose will be determined on the use you have in mind for your summer house. Large windows will provide lots of natural light and help to make the summer house a pleasant place to pass your time in, whether you are working or not. Windows can be fixed or opening so consider if you will need lots of ventilation or will just opening the door be sufficient. Doors can be single, double or bi-folding so depending on your requirements it is worth taking these into consideration too.
Size
Your choice of size will be dependant on the space you have available. An important task to undertake is to measure the area you wish to put your summer house. This will not only help you decide which summer house best meets your needs but wll prevent you making a costly wrong choice.
Remember if the size you have available is limited then buying the right summer house has the potential to give the illusion of space, such as with the corner summer house in a small garden. Likewise with the rectangle shape, you can give the impression of space by the way furniture is positioned.
Windows
The material that is common in the manufacture of summer house windows is styrene. The reason being it offers both and lightness, it is also very difficult to break which makes it ideal for use outdoors. Large windows give you the most natural light which will in turn make a summer house into a bright and welcoming place to spend your time in.
Weatherproofing and materials
The quality and standard of the materials in the construction of a summer house will determine how weatherproofed it will be. It is of great importance that the summer house is constructed of high quality timber and has ideally been treated with a protective coating to ensure that rot is prevented. The roof should also be waterproofed, this is generally achieved by using a mineral felt material to cover a wooden roof. This material has been proven to be one of the most effective ways to ensure the roof is water-tight.