ALLCOAT Exterior Black 2.5 litre
ZINACEBK25L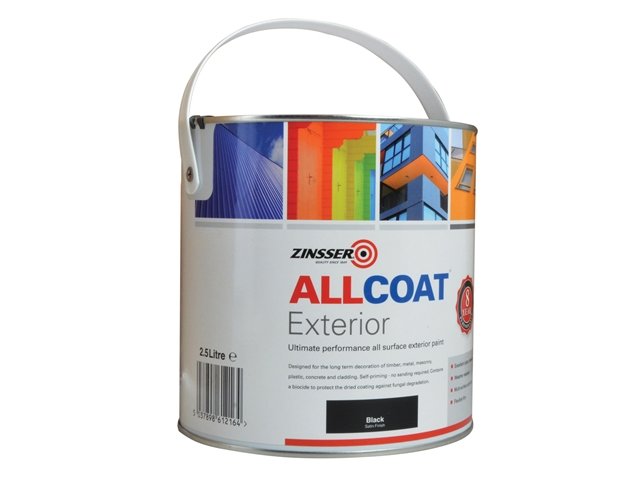 Zinsser ALLCOAT® Exterior is the best performance all surface paint. Designed for the long term decoration of timber, metal, masonry, plastic, concrete, cladding and more, it forms a Vapour permeable, low maintenance water-shedding coating, re-coatable in 1 hour.
ALLCOAT® Exterior contains a biocide to protect the dried coating against fungal degradation. Designed for all exterior surfaces, ALLCOAT® Exterior is ideal for new or previously painted wood, UPVC, galvanising, metals, cladding, weathered bitumen, stucco, brick, stone, cured concrete and more.
ALLCOAT® Exterior is self-priming and will bond to existing glossy paints without sanding. For most jobs, there is no need to purchase a separate primer. After removing existing mould and mildew, two coats of ALLCOAT® Exterior will ensure that any exterior looks bright and beautiful for years.
Zinsser ALLCOAT® Exterior gives excellent resistance against:
Cracking, blistering and flaking.
Rain and severe weather.
Features:
Long lasting finish.
Easy to apply.
Excellent colour retention.
Multi-surface application.
Surfaces should be clean, dry, sound and free of any contamination that may interfere with adhesion. Remove all loose or peeling paint and chalky paint residue. Sand edges of any remaining paint film until smooth. Special precautions should be taken during surface preparation of pre- 1960 paint surfaces as they may contain harmful lead.
Avoid the inhalation of dust. Wear a suitable face mask if dry sanding. New concrete, masonry and other related surfaces must be cured at least 30 days before priming. Remove all existing mould and mildew before painting.