GE-CT18LI Lithium Cordless Grass Trimmer 18V Bare Unit
EINGECT18LI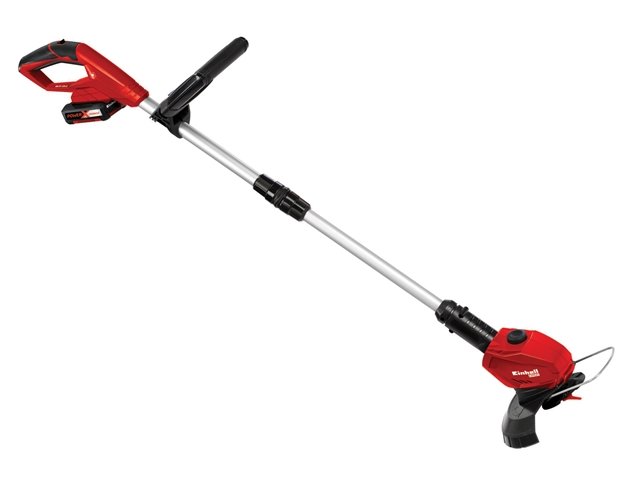 The Einhell GE-CT 18LI Power X-Change Cordless Grass Trimmer is a powerful tool which helps you keep your lawn looking immaculate in those places which cannot be reached by a lawn mower. The infinitely adjustable, telescopic long handle can be adapted to users of all sizes for user-friendly operation. Even difficult working conditions such as vertical surfaces and the edges of lawns are mastered effortlessly and comfortably thanks to a softgrip, infinitely adjustable second handle with integrated compartment for 20 blades. The motor head can be rotated through ± 90° and tilted to five different settings. Includes a flow guard that protects flowers, ornamental plants and other sensitive objects from damage. Complete with 20 robust plastic blades.
The lithium ion battery has a battery management system for optimum discharge control and long battery life. Thanks to the battery capacity indicator with three LEDs you can check the current charge level at a glance. Its Power X-Change system battery can be used in all products from the Power X-Change family.
EINGECT18LIK: 1 x 18 Volt 1.5Ah Li-Ion Battery.
EINGECT18LI: Bare Unit, No Battery or Charger.
Specification
Input Power: 18 Volt.
Line Cutting Speed: 8,500/min.
Cutting swath: 24cm.
Runtime: 40 Minutes.
Charging Time: 30 Minutes.
Weight: 2.15kg.