Geo-Fix® All Weather Stone 14kg
EVBGEOWET14S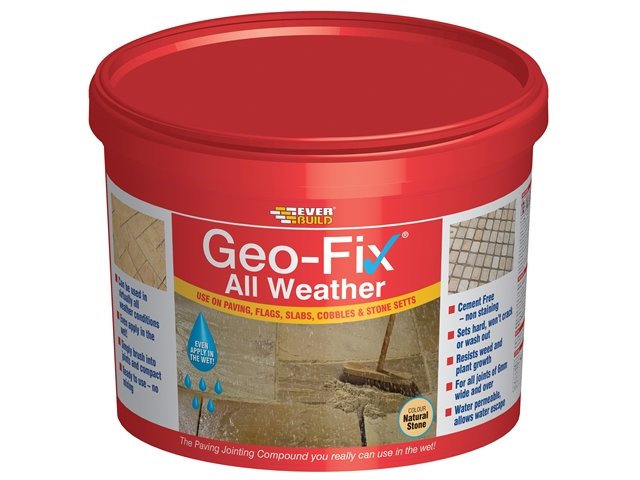 Everbuild Geo-Fix All Weather solves the perennial problem of applying jointing compound in wet weather. Geo-Fix All Weather has all the legendary time and labour saving benefits of standard Geo-Fix, is easy to brush into the joints and simple to point up. In fact the only difference is it can be applied in wet weather. The compound is a quick and easy way of applying a permanent rigid joint with no special machinery or equipment required. It is suitable for natural stone, concrete, slate, clay, terracotta and granite and can be used in areas subject to light vehicular traffic.
Features:
– Supplied ready to use, no mixing required.
– Simply brush into joints and compact.
– Cement free – Non staining.
– Sets hard, won't crack or wash out.
– Resists weeds and plant growth.
– Totally weatherproof, unaffected by frost.
– For all joints of 6 mm wide and over.
– Water permeable, allows water to escape.
Suitable for use on:
– Footpaths.
– Outdoor patio areas.
– Indoor stone floor areas.
– Pedestrian areas.
– Driveways.